These tunnels at the border of England and Wales have been undocumented for centuries.
Electrical workers have discovered a network of tunnels near Tintern Abbey. The tunnels are believed to be more than 800 years old, but have not been documented on any map.
The discovery was made by workers from Western Power Distribution. BBC reports that the team was digging a trench to run wires to a private residence when they unearthed the tunnels. The team was sure to reseal the entrance to ensure its safety until it is examined.
The Welsh historical preservation society, Cadw, has since halted the work in order to conduct an archaeological examination.
According to Daily Mail, the tunnels are about 4 feet high, and it is unclear how far they stretch. The tunnels run parallel to the Angiddy Brook, which flows through the Wye Valley. Experts have suggested that they could be linked to iron works found in the area. Their proximity to Tintern Abbey, however, suggest the two may be connected.
The oldest maps of the area date to the 18th century, but they do not feature the tunnels. The archaeological crew will have to map the network as they explore. The investigation is only just getting started, but officials say it could take years to complete.
Tintern Abbey is a scenic ruin and popular tourist attraction. The site has long been an inspiration to poets, artists and thinkers. Tintern Abbey was a Catholic stronghold until the dissolution of monasteries in the 16th century. If the tunnels are linked to the Abbey, it's possible that they were created to escape Catholic persecution or for secret worship.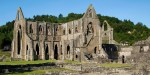 Read more:
Tintern Abbey might be some of the most beautiful ruins you can visit