Communication is a key to happiness and success in a marriage.
"I don't want to have any more children. It's non-negotiable." When Simon said this to his wife, Clarisse, she was perplexed.
Deeply hurt by this attitude of rejection, she asked her husband the reasons for his decision. Thanks to Clarisse's patience, attentive listening, and the help of a marriage therapist, Simon came to acknowledge that he was afraid of another pregnancy.
He was afraid of losing his freedom that he'd finally found after his youngest child grew up, and afraid of having arguments with his wife again because of the fatigue they would experience in the first few years of raising another child.
Often, the reason we don't want to express our fears to our spouse is because we're afraid of showing our own vulnerability. "Will my husband make fun of me if I tell him my fear of being alone?" a wife might ask herself, particularly if he often takes business trips. "What if he doesn't understand me? What if he starts to think I'm not the strong woman he thought he married?"
For Claire Deprey, a marriage counselor, "This fear of not being listened to or understood reflects a bad image of oneself." This fear also can be amplified by a family history of one kind or another: Some spouses are afraid to open themselves up because such a confession could be used against them later, in the form of settling a score. For this reason, fears are often masked by aggression, annoyance or anger.
Benefits of sharing your fears
Although it can be hard, it's very beneficial to share our fears with our spouse.
"Our fears belong to each one of us; they're not there to set the spouses against each other," reassures Marie-Aude Binet, a marriage counselor.
Living in the truth is the first benefit. It's also a deep sign of trust, which helps the spouses strengthen their bond.
Opening ourselves up to our spouse liberates us and reinforces our self-confidence. Deprey says that, when we confide our fears to our spouse, we become more aware of their origin. "Talking about it as a couple helps to shed light on it," she says.
But people with strong personalities aren't necessarily aware of their fears. They may flee from them or try to hide them.
In that case, the other spouse can try to help, asking opportune questions:
Where might this problem come from?
How do you explain your insomnia?
What keeps you from following your desire to change jobs?
When we're the one who receives the confidences of our spouse, it helps us feel that we play a useful role and are valued in our role of support or protector. We are touched by this gesture of confidence.
How did we get here?
Often, couples remember that, in the first years of their relationship, "We told each other everything!" The unforgiving rhythm of daily life, as well as the collapse of the myth of the perfect spouse, can dry up conjugal dialogue.
"We tell ourselves that we're dealing with a person like any other, and we no longer dare to be as transparent as we were at the beginning of the relationship," says Deprey.
What if sharing our own fears as a couple meant restoring communication? Talking about everything and nothing allows a fluid, regular, and transparent dialogue.
"However, be careful not to hide behind these harmless discussions. Putting on the table the things that are going well and those that are more difficult is part of a couple's life," advises Deprey. A climate of trust and respect for the other person is also necessary for us to share our fears.
At the same time, our spouses are not our psychologists. It's not their vocation to resolve all of the other's difficulties. "Rather, their role is to help each other reveal" what's going on, says Deprey.
Sharing our fears is simply a way of letting off steam, without necessarily waiting for a concrete solution. But through the conversation, a possible path to a solution may be opened up.
It's up to the person who is opening up to grasp it—or not. Through a hand on the arm, a look or a smile, or listening attentively, we can show compassion and restore emotional security.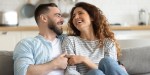 Read more:
Healthy curiosity about each other is a secret to a happy marriage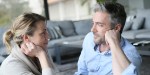 Read more:
Try this simple exercise to breathe new life into your marriage