There's always a reason behind the paths God takes us down in life!
Julie Tinetti and Cassandra Madison became firm friends when they started working at the same bar in New Haven, Connecticut, in 2013. Through their discussions they found out hey were both adopted, and both were originally from the Dominican Republic. In fact, they both had gotten tattoos in honor of their native country.
Along with all these coincidences, their co-workers kept saying how alike the two women were. While they thought they could be related, considering their backgrounds, neither of them took any steps to find out more, and they remained close friends, even when Madison moved to Virginia in 2015.
It was by only chance they discovered something incredible about their relationship.
Tinetti realized there were some errors on her adoption papers. A childhood friend of Tinetti named Molly Sapadin had also been adopted in the Dominican Republic. Their adopted moms were friends, and while looking at their adoption papers they noticed how both girls had the same biological mother listed on their papers.
They took a DNA test, which revealed they weren't sisters, but third cousins. As a result, however, the accuracy of Tinetti's adoption papers was questioned, as reported by KSHB.
In 2018, Madison went back to her native Dominican Republic to try and discover more about her background. There, she met her biological father, who shared that he and Madison's mother had made the decision to place her for adoption because they were struggling to care for their sick son. He revealed that they had also placed another daughter for adoption.
Madison got straight on the phone to Tinetti and recommended she take a DNA test. At the end of January the results came back confirming that the girls were indeed sisters with the same biological parents.
Tinetti shared with ABC News that she was "still processing the magnitude of the situation." It's exciting for both women, especially since they had already become such great friends.
While their story might seem like a coincidence, it's a great reminder of how God sometimes guides us down unforeseen paths in life — as he by giving these girls a happy childhood with their adoptive families, and helping them find each other again.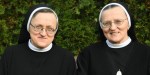 Read more:
Separated at birth, twin sisters end up in the same convent!