On International Women's Day, look to these remarkable women of the Church.
Today is International Women's Day, and as we celebrate womanhood around the world, there are many inspiring saints to turn to who embody all that is admirable about faith and the feminine genius.
Over the centuries these women have shown tremendous strength,  determination, and conviction, which has left a legacy for modern women — and men, too! While there's a myriad to choose from here's a selection of women who often broke molds and showed tremendous courage as they brought their gifts to the world around them.
So click on the slideshow to discover more about these saints from throughout the centuries, and if you have a saint who's impacted your life we'd love to hear about her in the comments below!
Launch the slideshow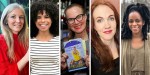 Read more:
10 Inspiring Catholic women to follow on Instagram