Pope Francis on why there's no International Mens Day: 'We men are celebrating every day'
Flying home from his apostolic trip to Iraq on March 8, the pope gave his customary press conference to the journalists who accompanied him on the journey.
According to Vatican News, he started off noting that March 8 is International Women's Day and revealed that, during a conversation with the president of Iraq and his wife, the annual celebration was mentioned. It was commented there is no International Men's Day.
"I noted," the Holy Father said, "we men are celebrating every day!"
At the end of the press conference, he mentioned the international celebration again.
Vatican News reported:
And on International Women's Day, he turned his attention to the millions of girls and women who suffer human trafficking, which is a direct result of conflict and poverty. In some parts of the world, he said, "women are still slaves and we have to fight, struggle, for the dignity of women. They are the ones who carry history forward. This is not an exaggeration, and it is not merely a compliment because today is Women's Day!"
Women in the Church
The pope has often called for a greater participation of women in the Church. He also exhorts the Church to take on a "Marian style" — a "Marian style" consists of loving as the mother of Christ does, with "tenderness" and "affection."
The Holy Father said this in a letter to Maria Teresa Compte Grau, the author of "10 Things Pope Francis Proposes to Women" (Diez cosas que el Papa Francisco propone a las mujeres, in Spanish), released in 2018.
On other occasions, for example, at daily Mass on May 21, 2018, he has expanded on the same thought.
The Church is feminine, because it is "church" and "bride" [both grammatically feminine]: it is feminine. And she is mother; she gives life. Bride and Mother. And the Fathers go further and say that even your soul is the bride of Christ and mother." And it is with this attitude that comes from Mary, who is Mother of the Church, with this attitude we can understand this feminine dimension of the Church, which, when it is not there, the Church loses its identity and becomes a charitable organization or a football team, or whatever, but not the Church.
[Article updated after publication to improve translation]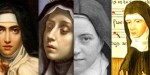 Read more:
4 Inspiring women who are "Doctors of the Church"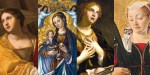 Read more:
Meet the 7 women mentioned during the Eucharistic prayer at Mass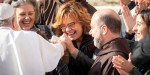 Read more:
Men and women deserve more than lust, says Pope Francis