Archbishop Bashar Warda finds value in trip beyond the words of the pontiff.
Perhaps more meaningful than any words spoken by Pope Francis during his three-day visit to Iraq was an an action he took.
"Something I found really interesting is that the model of dialogue that His Holiness is presenting is not a model where everyone is called to sit around a table," said Archbishop Bashar Matti Warda, the Chaldean archbishop of Erbil in northern Iraq. "No, he leaves his place to go wherever the other is, who is different, and start a dialogue with him."
Archbishop Warda compared Pope Francis' courtesy call to Grand Ayatollah Sayyid Ali Al-Husayni Al-Sistani in Najaf on Saturday with his outreach to Sheikh Ahmed al-Tayeb, grand imam of al-Azha, in recent years. Sistani is considered the most influential Shiite leader in Iraq, while Tayeb is regarded by some Muslims to be the highest authority in Sunni Islamic thought. Francis visited him in Cairo and signed a "Document on Human Fraternity" with him in Abu Dhabi. 
"He went to al-Azhar; he went to Abu Dhabi, he went to Najaf," Warda said in an interview on Monday, just hours after Pope Francis departed from Iraq. "That's the model of dialogue he is presenting — not waiting for them all to be invited to sit around a table, no, but to be there."
In Warda's view, the decision of the pope to go forward with his visit to Iraq — in spite of worsening pandemic conditions and continuing insecurity, evidenced by recent missile attacks — will pay rich dividends.
"He's a man of peace, and this was a visit of peace, and many Iraqi politicians stated that 'Yes, we should take this opportunity really to foster reconciliation and forgiveness.'"
Like others, Archbishop Warda acknowledged that the visit has helped give the Christian community in Iraq a much-needed boost, after facing years of war, persecution and in some ways living as second class citizens.
"The joy that also he brought to people was immense," the archbishop said. "I think the task is left for us as Christians to really live the mission and encouragement, because he gave words of encouragement, words of thanks to the Church, which is alive.
"And then there is another responsibility upon the government of Iraq really to make the benefit, because he really drew the attention of the whole world to Iraq, and in a positive way," he continued. "He was able to tell the people of the whole world, 'Listen, I'm going there, follow me,' doing it in a very positive way, getting the people together."
Archbishop Warda said that some 8,000 families that had taken refuge in Erbil because of the 2014 invasion of the Islamic State group have returned to their homes on the Nineveh Plain. He said that in spite of occasional reports of attacks carried out by small factions of ISIS sympathizers, he was confident that the Iraqi government and people "have had enough" and will not tolerate any regrouping or resurgence of the jihadist movement.
Speaking of a moment during the final Mass of the visit, in Franso Hariri Stadium in Erbil, when Pope Francis blessed a statue of Mary that had been repaired after being destroyed by ISIS in the Christian town of Karamles, Warda said it was as if to say "'Where are you ISIS? Our Mother managed to gather the people of Karamles again and rebuild Karamles, and ISIS is gone.'"
"His Holiness spoke about the needs of reconciliation, the need to put our political differences aside," Warda said. "It's up to the Iraqis to benefit from this visit or not."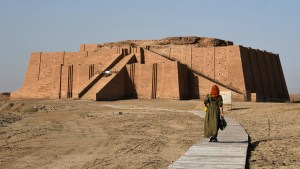 Read more:
Pope's trip to Iraq is like a pilgrimage to a Holy Land
Read more:
Pope and Shiite Islam leader promote dialogue and respect