The centuries-old trees were selected to restore the cathedral to its original state.
Send us the names of your loved ones who are sick or suffering. The Aleteia prayer network of 550 monasteries will take them to prayer for the World Day of the Sick.
Click here to share your intentions
Four oak trees have been selected to replace Notre Dame cathedral's spire two years after it was ravaged in a fire that also destroyed the historic cathedral's roof.
The centuries-old trees were cut down in the Forest of Berce in the Loire region of France on Tuesday, reported the Associated Press. The search for the trees began last summer when French President Emmanuel Macron scrapped plans to rebuild the spire in a modernist style. The government announced that the spire would instead be restored to its original state.
"As closely as possible to its last complete state"
"The President of the Republic became convinced of the need to restore Notre-Dame de Paris as closely as possible to its last complete state, coherent and well-known, while betting on sustainable development in the choice of materials and site management," read the statement from the Élysée Palace last July.
So began a hunt across the whole of France for the perfect trees to rebuild the 315-foot tall spire. In addition to the four oaks felled on Tuesday, 1,000 more in 200 different forests were selected to rebuild the cathedral's transept and spire, reported the AP.
"Given the place occupied by the cathedral in the hearts of the French, in the history of France and the world … we are happy (that) the entire industry — from foresters to sawyers — is mobilized to meet this challenge," said Michel Druilhe, President of France Bois Foret, a national inter-professional forestry network according to the report.
A race against the clock
Time was of the essence. Macron has pledged to rebuild the cathedral by 2024 when Paris hosts the summer Olympics. Once selected, the trees needed to be cut down by the end of March to prevent tree sap and moisture from damaging the wood. What's more, they must dry out for 18 months before carpenters can begin their work.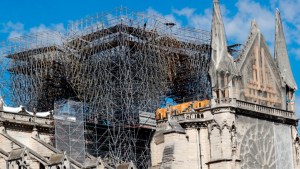 Read more:
Notre Dame will be restored to exactly the way it was before fire, says French government