Karim Wasfi uses his music to promote healing and peace in the face of destruction.
During his visit to Iraq, Pope Francis spoke from the Al Tahera Church in Qaraqosh, a town in Northern Iraq that was destroyed by ISIS in 2014. During the attack, which saw churches smashed up and pillaged, the faithful fled. However, when the jihadists were kicked out of the city in 2016, many Christians returned to try and re-build their homes, and their church.
In his address from the Al Tahera Church (the Immaculate Conception Church), now being lovingly restored to its former glory, the pope shared: "The road to a full recovery may still be long, but I ask you, please, not to grow discouraged. Forgiveness is necessary to remain in love, to remain Christian," as reported by France 24.
His uplifting message is reminiscent of a more musical address three years ago in the same church. Sitting in the church that ISIS had try to destroy, Karim Wasfi, cellist and conductor for the Iraqi National Symphony Orchestra, used his most powerful tool against tyranny: his cello.
Playing in a church stripped of all its precious relics, Wasfi's performance is particularly haunting. As he plays his cello you can gaze around the bare church with a feeling of hope. The one remaining stained-glass window with a simple cross lights up the nave.
Al Tahira church 3 years ago.
Karim Wasfi, fighting against ISIS with his cello🎻 pic.twitter.com/r3tswg5uLd

— ninwaya (@ninwaya) March 4, 2021
The 49-year-old has been using his musical skills to promote peace and to encourage a much-needed healing process in a country profoundly damaged physically and mentally by violence, terrorism, and war. By creating "Peace Through the Arts," the musician is using the beauty and refinement of music to balance out the ugliness and evil that has occurred in Iraq, as reported by Asia Society.
Wasfi's efforts are a reminder to us of not just the power of music, but of how one individual can play such a powerful role in promoting peace.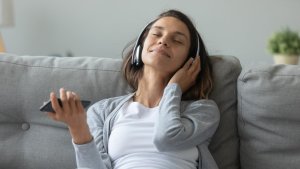 Read more:
6 Pieces of beautiful music that can bring you peace