Social media giant deletes account -- at cardinal's request.
Twitter has deactivated an account bearing the name of Cardinal Charles Maung Bo, Archbishop of Yangon, Myanmar. But it was Cardinal Bo himself who asked the social network to delete the account, as it was wrongly attributed to the archbishop. 
Cardinal Bo's secretary confirmed to Fides, the information service of the Pontifical Mission Societies, that "the cardinal has neither a Facebook nor a Twitter account" and that none of the posts published were attributable to the cardinal. 
In clashes between protestors throughout Myanmar and forces supporting a recent military coup, tweets allegedly from Cardinal Bo were cited by media around the world. A dramatic photo of a Catholic nun kneeling in front of armed troops, posted to the account, was reproduced by many media and attributed to the cardinal's Twitter feed. Aleteia also followed this practice. 
When the cardinal's Twitter account went down, some media reported that the Myanmar military junta was responsible, but, Fides said, it was the cardinal himself who asked for the account to be deleted.
Fides noted that Cardinal Bo, who resides in Yangon, does not make any public statements except for his Sunday homilies.
In his most recent message addressed to the faithful, the cardinal said that "a new Myanmar is possible, a nation without conflict is possible, so that this nation may experience the glory it deserves. Let us make peace our destiny … Arms are useless. We must arm ourselves with reconciliation and dialogue.
"Peace is the only way; peace is possible," he continued. "Pope Francis has asked for all conflicts to be resolved through dialogue. Those who want conflicts do not wish this nation well."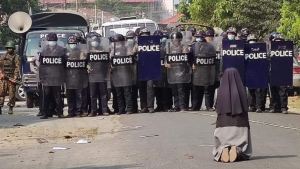 Read more:
Nun and monk put themselves between police and protesters in Myanmar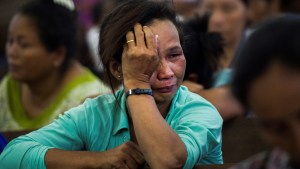 Read more:
"We have shed enough blood"—Myanmar bishops call for dialogue