Francis' gesture reminds struggling community they are "part of the universal Church," expert says.
When Pope Francis visited Iraq this past weekend, he got a good look at some of the work of restoration that's been done on churches and in Christian communities over the past few years. One agency that has helped in that work is Aid to the Church in Need, a papal foundation providing pastoral and humanitarian assistance to the persecuted Church around the world.
In an interview on Monday, Edward Clancy, Director of Outreach for Aid to the Church in Need-USA, shared his observations about the papal visit, its significance, and prospects for Iraq and her Christian community going forward.
What did Pope Francis' visit to Iraq mean for the country and the Christian communities that live there?
For the people, I think it's incredibly important. A visit by someone of prominence is important, but for Christians, and now mainly Catholics in Iraq, the pope coming is a wonderful blessing on many fronts. It shows solidarity with them, the fact that the Holy Father is there in person, and made this extraordinary visit, in times of COVID-19, in times of militia or terrorist activities, to make a point to visit the very special Christian places. And because he will advance their cause, on all fronts, whether it's in Iraq or internationally, to be able to say the Christians are there and they don't intend on leaving. 
But obviously, with the number of Christians who have left, because of fear, because of lack of opportunity, because of the economy there, those who remain might feel very alone and left out from the world around them, so a visit from the Holy Father is very special. 
From the point of view of advancing the cause, the fact that he was there and met with Grand Ayatollah Ali al-Sistani [a leading figure in Shia Islam], one of the very few clerics, it seems, who can and will speak out for the cause of peace and cooperation between Islam and Christianity. That was important.
… Amir Musawy, one of the journalists who was embedded with troops during the battle to reclaim Mosul and the Nineveh Plain after it had fallen into ISIS's control, spoke of the fact that it was al-Sistani's words to the Iraqi army that told them to go and protect the Christian places, and that soldiers actually were protecting Christian icons and Christian possessions when they went into churches, keeping them from being destroyed.
At the beginning of this year, Muqtada al-Sadr [an Iraqi Shia cleric, politician and militia leader] made a point of saying they were going to look into discerning the proper ownership of Christian land [that had been taken during the Islamic State invasion]. It should be very simple, but … it's an incredible hurdle to be going from living in a home, having jobs, having careers, having family, to being displaced, and then years later, being told you can go back, only to find out that everything you owned is in someone else's hands. But that action by al-Sadr — and also the words of al-Sistani — is good, and I can't help but think that the Holy Father's visit stirred the pot — especially al-Sadr, who you would not necessarily consider a long time advocate of Muslim-Christian cooperation. …
What might come out of this papal visit for Iraq and her Christians?
It's going to invigorate the Christians. It will definitely give them a breath of fresh air, a reason for staying, a reason for going forward, a sense that they are part of the universal Church within Iraq. They don't have to leave their homeland in order to remain Christian, to remain part of the Church.
I think and I hope that it shines a light on other international bodies, whether it's nations or the UN, to not forget this and not let this go by the wayside and just become a footnote of activity that was five or 10 years ago when Christians used to live there. I think the bigger thing is what it does for the people there.
And it might also help to inspire those who wish to come back to make that effort. We do know of some people here in the United States who stated they truly would like to go back, that they love their homeland. I don't know if this changes their plans, but I would believe that it might help them move a little closer to that decision.
What are some of the dangers and problems that still lie ahead? Could, as some people have said, the Islamic State make a comeback?
ISIS as a military force has been defeated. They are no longer the troops that occupy territory. But ISIS the ideology still exists, whether you want to call them sleeper cells or factions within the Iraqi Muslim community, they still exist.
The biggest problem in Iraq is corruption, that the government and militias and all the different parties that have power are using the chaos to their advantage. So when Aid to the Church in Need committed about four years ago to the rebuilding of the Nineveh Plain, it was quite an endeavor. Our estimates were that $125 million was needed for necessary repairs and improvements and replacing of personal buildings and institutional Christian or Catholic buildings and just general things like that. But there was another $250 million needed in just basic infrastructure just to keep these cities livable. Obviously, Aid to the Church in Need and the Knights of Columbus and other organizations that came together can't do that. It's not our call, nor could we physically repair roads, put in telecommunications lines, repair waterways and sewers and things like that. 
So when we were speaking with Archbishop [Bashar] Warda [Chaldean archbishop of Erbil] a week and a half ago, when I asked him about this, he said [Iraqi state and local governments] just don't do it. They all list the things that are needed and need to be done, but they just don't do it. Nothing is being done unless the people themselves do it. And that's very disheartening.
The next biggest challenge is the security. You still have check points with militias. You still have people being isolated and separated. You still have problems with trucks delivering commerce between cities. All of these things are hindrances, so it makes living in a place where Christians are even more difficult. And if you go to a city like Mosul, which in a sense should be the city with the largest Christian population, there are almost no Christians there, because it's just not safe to be there for them. …
In Erbil, Aid to the Church in Need was able to help with a school, the Catholic University of Erbil, and some of these other smaller schools that have been started. They are the first new Catholic institutions in the country in many years. The Catholic University of Erbil is the first Catholic-in-name university anywhere in the Middle East. There are other universities that are Catholic, but none of them have the name Catholic in it, whether it's Bethlehem or anywhere else.
So there is a sense of just making a point of who we are, putting up a flag and saying "We're not leaving, and we plan a future ahead."
Mosul had and probably still has one of the better medical programs in the Middle East. Before ISIS, there were 30,000 to 35,000 students at the university, and nearly a third of them were Christian. And yet, at the time Christians were probably 2% or 3% of the population. So it shows you that the Christian presence in this country is important because they tend to be the ones who will be more educated, will be the professionals, will help to provide services at the higher end and help society make leaps rather than short steps in improvement. When the Christians were pushed out of their homes in Nineveh, for the most part they were able to take care of themselves, except for supplies: they had teachers, they had doctors, they had lawyers, they had pharmacists, they had nurses, they had all of these professionals who were able to do their jobs and help their own. There really wasn't a need for the UN to come in and build hospitals. All they needed to build was the facilities, but they didn't need to bring doctors from the outside or anything.
It just shows what these few people, this small mustard seed, if you will, when spread out in the country, will do to help Iraq in the future. 
The church of Al-Tahira, the Church of the Immaculate Conception, in Qaraqosh, was rebuilt thanks to the generosity of Aid to the Church in Need donors. People might say it's sort of window dressing, but it's very important to Christians there, because churches are places of worship, and for us as Catholics it's very important because it is the sacramental life of the Church there. We don't get the same benefit from hearing words; we must be there; we must receive the Eucharist, that the sacraments are administered in this place. Countless generations would have been married and baptized and confirmed and buried in this building. It's an important institutional structure.
Here in New York, 100 years ago, there would have been people living in tenements, and a brand new beautiful church being built, and it would have been the pride and joy of the tenement dwellers, because that was their church. I can't live in a palace, but every Sunday when I put on my best clothes and go to church, I remember who I am.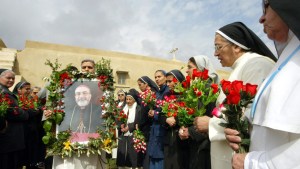 Read more:
Meet these inspiring martyrs of Iraq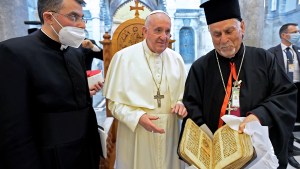 Read more:
In Iraq, Pope Francis returns important prayer book to Syriac Christians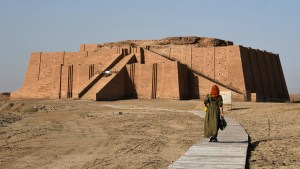 Read more:
Pope's trip to Iraq is like a pilgrimage to a Holy Land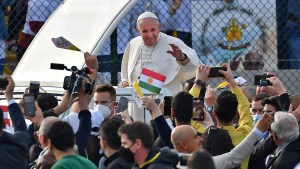 Read more:
Pope's visit to Iraq offers a model of dialogue, bishop says