Mission San Carlos Borromeo de Carmelo plans to finish the work before 250th anniversary.
One of the oldest Catholic missions in California is soon to be restored. Mission San Carlos Borromeo de Carmelo, the second mission church founded by St. Junipero Serra, will add modern safety and accessibility features while preserving the property. They hope to have the work finished by the 250th anniversary of the mission's establishment, later this year.
According to The Catholic Telegraph, the Carmel Mission Foundation was supported by the Hind Foundation with a $1.8 million grant. The project plans to reinforce deteriorating structures and renovate the exterior courtyard. The changes will also meet state regulations to allow easier access to the elderly and those with disabilities.
The Downie Museum
Much of the work is focused on the 100-year-old Downie Adobe Museum. The sun-dried clay structure will be fitted with new lighting and fire suppression systems, while nearly doubling its size. They are making room for new exhibits by relocating several guest amenities and restoring the original floor plan of the space. The structure's masonry is also planned to be updated to protect it from earthquake damage.
The Downie Museum contains some of the oldest works of art and artifacts to come from California. Linda Gardner, office manager for the Carmel Mission Foundation, said of the museum:
"The Downie Museum is an important cultural resource with tangible ties to the past and by preserving these historical areas, we ensure that future generations will have access to the extraordinary artifacts, art, literature, architecture, and history of everyday life recording the progress from the first peoples of California to the present day."
The grounds are being updated with the world pandemic in mind, including open spaces in the plans to ensure a safe and socially distanced reopening when the time comes. The Carmel Mission Foundation hopes to host an in-person celebration of the mission's 250th anniversary later this year. 
Suggesting the restored mission could be a boon to the region's pandemic-worn economy, Gardner said:
"As we look towards the recovery plan for our community, and ways to stimulate our tourist-driven local economy adversely affected by the COVID -19 pandemic, we strive to support our community partners, small businesses, hotels, and destination management firms to help them engage travel, and when appropriate, drive tourism back to our region's hotels, museums, restaurants, and shops."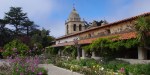 Read more:
5 Must-see missions on the California Mission Trail