These devotions can immerse you into the events of Holy Week in a unique way.
Throughout Lent, and especially during Holy Week, the Church urges Catholics to meditate on the events of Jesus' Passion. There are many ways to do this, and over the centuries various devotions were created to assist our meditations.
Here is a short list of 7 unique devotions that can help you delve deeper into the Paschal mystery of Jesus Christ.
The "Seven Falls" of Christ – While modern stations of the cross typically only have three "falls" of Christ, these German stations depicted Christ as falling or near falling in every scene.
A Marian alternative to the Stations of the Cross – There developed a devotion called the Via Matris ("Way of the Mother"), which focuses on the seven sorrows of Mary — not only at the crucifixion, but also throughout her life.
Stations of the Cross for busy people – If you find yourself overwhelmed with little time to devote to prayer, consider this simplified option of praying the Stations that you can easily pray whenever and wherever you are able.
How to pray the Chaplet of the Seven Sorrows of Mary –

Through their spirituality the Servites developed what has been called the "Servite Rosary," also known as the "Chaplet of the Seven Sorrows of Mary." It recalls seven events in the life of Mary when she experienced great sorrow.

Devotion to the Holy Face of Jesus – St. Claude La Colombière encourages us to meditate on his countenance, particularly in Lent, in his book The Sufferings of Our Lord Jesus Christ.
A beginner's guide to praying the Divine Mercy Chaplet – During the 1930s, a Polish nun named Faustina Kowalska received several visions and messages from Jesus. During these private revelations a great emphasis was placed on the Divine Mercy of God.
How to pray the Chaplet of the Precious Blood – One way to enter into Jesus' Passion is to meditate on the wounds he received and the blood that poured forth from those wounds. It is an ancient devotion in the Church, one that has roots in the New Testament.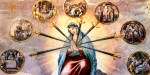 Read more:
A short guide to praying the Chaplet of the Seven Sorrows of Mary