700 years since the poet's death, a new edition appears, inspired by comic books and medieval manuscripts.
A new edition of Dante's Divine Comedy, set to be published in this 700th year since the poet's death, promises to bring the work to life for a new generation of readers. The edition, which took seven years to produce, brings together the traditions of medieval hand-copied illustrated manuscripts, rare artistic colors and comic book artistry.
New York-based artist George Cochrane regularly got out of bed before dawn to hand-letter the book before leaving for his day job. On average, it took him about an hour and a half to do each page. He learned Italian to deepen his appreciation for the epic poem; plied through hundreds of old manuscripts for inspiration in illustrating his work, and journeyed to Dante's native Florence to obtain ancient and medieval pigments that were used in the 14th century. 
"George became familiar with seven centuries of art inspired by Dante's poem," wrote Giovanni Scorcioni, whose company, Facsimile Finder, is publishing Cochrane's work. "These included giants like Michelangelo, Botticelli, Gustave Dore and William Blake." 
Facsimile Finder is about to come out with a limited run of the book — 100 copies in Italian and 100 in English — that is bound with hand-sewing. 
Dante Alghieri is considered to be the father of the Italian language. The Divine Comedy consists of three books: Hell, Purgatory and Heaven, with Dante himself traveling through those three realms.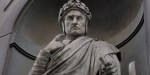 Read more:
Rarely seen Dante Divine Comedy drawings now online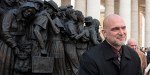 Read more:
Sculptor known for Homeless Jesus working on depiction of entire Divine Comedy