There's wisdom underneath the facts.
"The difference between the almost right word and the right word is really a large matter. 'tis the difference between the lightning bug and the lightning" (Mark Twain).
Likewise, the difference between the almost right question and the right question is really a large matter. 'tis the difference between finding data and finding wisdom.
So how does this pertain to Lent? In Lent, we talk about sin. To understand sin, we have to understand the Ten Commandments. And to understand the Ten Commandments, we have ask the right question, not the almost right question. The almost right question about the commandments is: "Are they commandments or suggestions?"
That's a pretty good question to ask, especially nowadays, when it seems that nearly every moral principle or imperative can be recast as a suggestion, a request, or a preference. But that question isn't good enough. If we ask that question only, we might conclude that the Ten Commandments are commandments and not suggestions "only"—which in this case may taken as "merely"—because God commanded it. The commandments, on this view, may be seen as arbitrary dictates by the Biggest Kid in the Cosmos. Our postmodern world sees all of morality as arbitrary anyway, so why not raise the stakes and describe the Ten Commandments as divinely-sanctioned (but otherwise pointless) suggestions backed by divine force? That may be pretty good postmodernism, but it's really lousy theology.
Yes, the Ten Commandments are commandments and not suggestions. We can't go much farther if we don't ask the right question about them: "Why did God command the commandments?" Now we can move from the fact of commandments to the wisdom underlying them. God gave the commandments because he is rational and good. He made us for a glorious purpose, and living the commandments is the best way—indeed the only way—to fulfill the purpose for which God made us, which is the happiness of Heaven.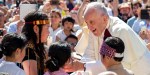 Read more:
Pope points out what God says BEFORE he gives the Commandments


So understood, we can move from commandments to sin. Sin is not just the breaking of divine dictates; it is a rejection of the wisdom, love, goodness, and authority of God. Indeed, it is a rejection of God himself. It is a thoughtless or spiteful choice for the unloving, for the unreal, for anti-wisdom. It is a choice for not-God. Such choices, absent divine intervention, bring about a fated calamity.
Before time was set in motion, rebellious angels chose irrevocably against God and his wisdom, goodness and love. In time, Adam and Eve likewise chose against God, with disastrous consequences for themselves and all of their posterity, including us.  Death, sickness, sorrow and labor entered the world as a result of their refusal to harmonize with divine wisdom.
The story continues now in each human life. I know that I am a sinner. I know that I have chosen against God's commandments. Without God's mercy, I would have no hope of Heaven.
Jesus, who is the Christ of God, broke the power of sin and death by allowing himself to be broken on the cross at Calvary. Our Heavenly Father vindicated the love and obedience of his only-begotten son on Easter Sunday, by raising him from the dead. In our time, but especially during the Season of Lent, Jesus comes into the prison cell that we have built for ourselves, the prison of sin that we began to make when we chose to listen to the devil and not to God. Jesus bids us to walk out of the cell. However…
C.S. Lewis reminds us that, "If we accept Heaven we shall not be able to retain even the smallest and most intimate souvenirs of Hell." In other words, if we would be free for Heaven, we must be free from all that we stole from God's moral order. That can be hard for those of us who have disordered hearts. The other condition of our jail break is that we can pass through the gates only if we are carrying our cross. It is not enough to follow Christ. We have to imitate him, we have to allow him to do in us what he himself had undergone. St. Paul writes in 2 Timothy 2:11 that only if we die with Christ shall we rise with him. These facts remind us that the grace of Christ is always free but never cheap.
This season of Lent, let's ask the right questions so that we may find the right answers. When we ask the best questions, we find that the best answer is a person—Jesus Christ, our savior. May we allow ourselves to be found by him, to accept his grace, and to follow him all the way home.


Read more:
Outside the boundary of the Commandments, the one who's destroyed is you, says Francis


When I write next, I will continue with my reflections on Lent. Until then, let's keep each other in prayer.