Tradition tells us two angels presented a golden crucifix to the king of Murcia, who immediately converted to Christianity.
Pope Francis has now returned from Iraq, while questions of harmonious coexistence in that ancient land remain. It is not only the Middle East that went from being predominantly Christian to Muslim more than a thousand years ago. Spain was also Christian, for about 300 years, before mostly adopting Islam for many centuries to come. The Arab occupation started in 711, and the last Muslim Spanish kingdom endured until the Reconquista was completed in 1492.
During those many centuries there were occasional miraculous conversions of Muslim overlords, although none are as celebrated as the happening of 1231. The south-eastern kingdom of Murcia was ruled by a Muslim of considerable curiosity. When a wandering Christian missionary was caught in the Murcian city of Caravaca, the king asked him to celebrate the Eucharist so that he could witness the miracle of transubstantiation. The priest was happy to oblige but couldn't find a cross to place on the makeshift altar. At this point, two angels appeared carrying a golden crucifix.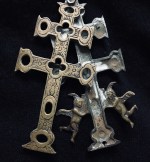 According to legend, the king immediately converted to Christianity. What impressed him most was the angels with their sacred delivery. These celestial beings are part of many different religions and have always been central to Islam. The Muslim king was highly aware of angels: in Islamic scripture it was Gabriel who announced to Mary that she was to be the mother of Jesus, as well as conveying the first revelations to Muhammad.
Because of this shared heritage, the Murcian king was entirely convinced. From that time onwards, the special two-barred crucifix of Caravaca has usually been accompanied by two angels. It must be said, however, that the Muslim angels were always more modestly dressed than their Caravacan counterparts.
These crucifixes remain a popular souvenir for the numerous pilgrims who visit that holy city. The example shown here is probably from the 17th or 18th century and has typically rotund, unclothed angels. As with the miraculous cross that astonished the Murcian king, it is also a reliquary. That early version housed part of the True Cross; this one has been emptied of whatever relics it once contained.