The child's reaction is sheer joy.
Mick McLoughlin is well-known for his busking skills on the streets of Dublin. Yet perhaps one of his most moving performances to date was a song he sang for a little boy on public transport.
Passengers aboard the Luas (a tram-like system that runs in Dublin) were treated to a stellar version of "You've Got A Friend In Me," originally by Randy Newman. And one young passenger's response to the popular song from Toy Story was so adorable it has captured the hearts of the Irish.
The moment was recorded by Terence Power, the big brother of the youngster, who shared it on TitkTok months after later with the caption: "Busker singing to my little brother who has autism, would bring a tear to a glass eye."
Many people commented on how heartwarming McLoughlin's performance was, with one busker sharing: "Honestly the best part about busking is making the day of just one or two people," as reported by the Irish Post.
While a stranger singing to a child might not be breaking news, it is a sweet relief among the daily grind and a reminder once more of the power of music to unite people.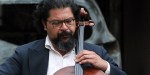 Read more:
Watch this haunting cello performance in destroyed Iraqi church