Spehar shares the hymns and songs that brought him comfort and hope through the world pandemic.
Luke Spehar is back with a tremendous new album, Solace. The work is a collection of hymns and covers that comforted to Spehar during the long year of isolation. Now, he's spreading the soothing songs that saw him through the pandemic, in the hopes that it will bring listeners some much needed solace.
Spehar's new work takes all the best aspects of his 2018 album, The Pilgrim, and expands upon them. His humble tenor voice is still sublimely supported by masterful acoustic guitar work. This album, however, draws more on orchestral arrangements that broaden his sound. This was especially noticeable in "Shepherd Me, O God," in which the strings were joined by a rare electric guitar for a solo with just the right tone.
Luke told Aleteia that the world pandemic was his inspiration for this album of sacred music. He said:
"The pandemic has had a huge impact on my music. In some ways, it created space for me to explore the creativity that had been suppressed in all the business before the lockdowns. In other ways, the uncertainty and anxiety of it all created a great desire in me to revisit songs that have always brought me comfort and peace in hard times. I needed to reconnect to music that felt timeless and in a sense, unchanging during these past few years."
"I Heard The Voice of Jesus Say," featured above, stands out as a particularly incredible arrangement. The guitar drives the tune with the rhythm of a train and we don't think we can ever appreciate the song again without a fiddle. The fast pace of the tune emphasizes a sense of weary wandering in contrast to the opening lyrics, "I heard the voice of Jesus say come unto me and rest." It is a simple musical element, but it adds a remarkable power to the song.
Recorded in isolation
Spehar noted that the whole album was recorded in the garage of his friend and producer Jake Armerding. What began as a chance to record a song or two turned into the 11-song Solace. As a record cut in less than ideal circumstances, the work is all the more impressive. Spehar noted that extreme summer heat forced the pair to keep odd hours, recording only in the early morning hours.
It is perhaps fitting that most of the tracks were recorded at sunrise, for the album is steeped in hopeful feelings that bring to mind the dawn of a new day. "The King of Love My Shepherd Is," for example, extends this sentiment. The guitar's twiddling introduction would be just perfect set to a video of dawn's light creeping over country hills. This impression turns to that of a beautiful sunny day as Spehar is joined by a small string section.
We are enamored with all the strings on Solace, but even more impressed that they were all recorded from isolation. Spehar told Aleteia that, due to pandemic restrictions, all of his guest performers submitted their parts remotely. Considering the high quality of the album, we never would have guessed that all these important elements were directed via phone or video calls.
Solace for all
Luke told Aleteia that the 11 tracks of Solace are songs that bring him peace in times of hardship. He said:
"I hope listeners can experience the peace that this music has brought me. I think there is a lot we can all receive from the various spiritual traditions. And even if the listener isn't someone who finds a home in the Christian faith, I hope they will experience a sense of peace and beauty in these melodies and lyrics."
Indeed, Solace is sure to be successful in this endeavor. Fans of sacred music are in for a treat, with a collection of some of the best hymns played as never before. Even those who are not inclined towards hymns will appreciate this fantastic folk-pop album, with bluegrass elements peppered in. It would not surprise us at all if Solace became a crossover hit. 
Click here to learn more about Luke Spehar and check out the full album, Solace, on Spotify.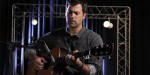 Read more:
Luke Spehar's "All Is Gift" is everything Catholic music should be