But it's too easy to let it feel trite. These four points help us get to the depths of this truth.
In an Angelus address earlier this year, the Holy Father asked, "How does Christ's light shine in every place and at all times?" It is a pressing question, particularly as we hear the words of St. John's Gospel, which declare that Christ the light has come into the world. It is an urgent question, as the evangelist notes that some do not welcome the light; some prefer darkness.
Pope Francis teaches, "It [the light of Christ] has its own method of disseminating. It does not do so through the powerful means of this world's empires which always seek to seize power. No, the light of Christ spreads through the proclamation of the Gospel. Proclamation, word, and witness."
At the heart of that proclamation must be the act of conveying the depths of God's love. This is what is recognized by those who display posters and signs at ball games, rallies, and dozens of public events emblazoned with the citation: JOHN 3:16. 
"For God so loved the world that he gave his only Son, so that everyone who believes in him might not perish but might have eternal life" (John 3:16).
If it's not a verse you know by heart, you should memorize it today. It's one of those lines of Scripture which captures the essence of the Gospel. John 3:16 presents the heart of everything that Christians believe.
As Saint Thomas Aquinas considers this verse, he writes,
Here we should note that the cause of all our good is the Lord and divine love.
For Aquinas to love means to will the good of the other. For Saint Thomas, God's love is the origin of all that is; God's will causes all that is and good comes to us by his love. God loves you, his sons and daughters. He created you, plans for your happiness, and invites you to life with him.
But once taught and learned the message can seem a trite thing. To be told "God loves you" can pass through our ears without being really heard. The message may be known and not believed. By meditating on the exceptional quality of God's love, we can recapture our awe at this verse which may seem hollow, even insincere.
1
From God's viewpoint
First, we should consider how great God's love is from the perspective of who it is who loves. The love of a parent ought to be very great. The love of a friend more present and powerful than the affection of a stranger. Saint Augustine writes in his Confessions,
O good and all-powerful God, who care for each of us as though each were the only one, and for all alike with the same tenderness you show to each" (3.11).
More powerful than love of the most caring parent or the most solicitous friend, the love of God is poured out on each and every one, loved particularly, loved for who we are.
2
Our lowliness
Second, the greatness of God's love is made manifest, when we consider our state as human beings. We are lowly creatures, trapped in time, haunted by sin. As Psalm 144 puts it,
Man is but a breath, his days are like a passing shadow.
In our ephemeral, wounded state, God enters in and loves us. As Saint Paul says, "God, who is rich in mercy, because of the great love he had for us, even when we were dead in our transgressions, brought us to life with Christ (Eph. 2:4-5).
3
His gift
Third, we see the greatness of God's love manifest in the greatness of his gifts. Love is shown by gifts. We demonstrate thoughtfulness and benevolence by gift-giving. Whether birthdays or Christmas, or patron's feast days or just because, a gift demonstrates devotion and esteem. God's gift is the greatest thing imaginable. He sent to us his Son; his only Son; his beloved Son. This Son has received everything from his Father, and pours out the infinite goodness no mere creature could receive to prove the immensity of his love.
4
Fruit of his gift
Finally, we see how great God's love is because of the fruit of his gift. By sending his only Son to die for us, God intends in his love, that we should have eternal life with him. Insofar as we sin, we freely choose to turn away from this path of life God offers. 
Ponder this day the immeasurable depths of the love of God. How marvelous God's ways! How wondrous God's deeds! By his mercy we have been saved. 
This love would be a cause of extraordinary wonder for the 19th-century Carmelite nun, Saint Therese of Lisieux. Struck by the greatness of love, she writes,
Then in the excess of my delirious joy, I cried out: "O Jesus, my Love, at last I have found my vocation, my vocation is Love!"
Every soul is called to love, and, as St. Therese shows, finds delight in it. To proclaim the Gospel, to let the light of Christ shine again in the world, means to allow this love, the greatest love, to direct our lives.
Cling to God's love. Embrace his love. Live for love.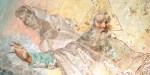 Read more:
Prayer that your soul will be pierced with the love of God