You've heard of hygge, but have you heard of "niksen"?
Is doing nothing a good thing? In the Dutch culture they practice it — and with excellent results.
They call it "niksen," and it's not the same as the Italian dolce far niente or the Danish hygge. Nor is it comparable to the siesta, a Spanish tradition that many experts recommend for its health benefits.
Practicing niksen doesn't mean being lazy, or pretending to disguise laziness as something similar to mindfulness. It is, however, doing nothing for a short period of time.
It's a way of clearing your mind. It's about taking a short break, even if just for a few minutes, perhaps a pause for a relaxing tea or to stretch your legs.
What are its advantages?
Practicing niksen has many advantages, according to Annette Lavrijsen, former Dutch editor of "Woman's Health" magazine and author of the recent book, Niksen: The Dutch art of doing nothing.
The author calls it "an art" because she emphasizes that if we're stressed or overwhelmed, niksen will teach us to discover the power of taking time to do nothing.
Practicing it has, according to her, multiple benefits:
It helps us to readjust our priorities.
It will help us master time management.
We'll learn to create a space in which to do nothing, regardless of the environment.
We'll achieve balance between work and private life.
It will boost our creativity.
We'll build a happier family.
We'll improve our friendships.
She explains that the only thing niksen demands is that we allow ourselves a moment to do nothing, to just be, without any specific goal or purpose.
Tips for practicing niksen
How can we find time for doing nothing, when our lives are so busy and stressful? Lavrijsen proposes simple meditation exercises, tips and relaxation activities. She gives the following examples:
The two-minute rule: Inspired by David Allen's advice, it states that "when a task arises that can be accomplished in less than two minutes, focus on it immediately. Don't let it remain echoing in the back of your mind, taking up space. Give it your full attention and enjoy the feeling of having completed it and being able to forget about it."
Your happy place: "Lie down, close your eyes and go to your happy place."
If you're at home, "spend some time in your room dedicated to niksen."
Daydream.
Get outside for some fresh air.
Sit by the window and watch the clouds pass by.
Brush your teeth with your child.
To this list, we might add: Allow yourself to have a meandering chat with God, with no pressure to complete a fixed number of prayers. Or sit in front of your prayer corner and look at the images that inspire you with love and devotion, and just enjoy being there.
Surely many people will think, "But, I don't have time for that, because I have to take care of others." The author answers: "If you're exhausted because you've given away all your energy, you're of no use to anyone. You must help others, of course, but make sure your own cup gets filled." 


Read more:
How to raise your kids like a happy, "hygge" Danish parent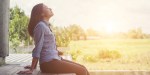 Read more:
Feeling stressed? It's time to embrace the "susegad" approach to life