There are many rich and beautiful prayers from Ireland that can boost your spiritual life.
Christians in Ireland have developed a beautiful collection of prayers that many find spiritually uplifting.
The original authors of the prayers are not always known, as the texts are ancient and were passed on over many generations.
Many of these prayers were composed during the first few centuries of Christianity in Ireland, when countless men and women chose a life of solitude, relocating to remote locations to spend the rest of their days in silence and prayer.
These monks and nuns were widely known for their intense lives of asceticism and became experts at prayer and union with God.
Here is a short list of 7 beautiful prayers that you should check out, even if you are not Irish!
Click on the links below for the full prayer.
Prayer to St. Brigid for protection from evil – Here is a prayer to St. Brigid that asks for her protection from evil and all danger, lighting the way on the path to virtue.O Glorious St. Brigid, Mother of the Churches of Erin, patroness of our missionary race, wherever their lot may be cast, be thou our guide in the paths of virtue, protect us amid temptation, shield us from danger. Preserve to us the heritage of chastity and temperance; keep ever brightly burning on the altar of our hearts the sacred Fire of Faith, Charity, and Hope, that thus we may emulate the ancient piety of Ireland's children, and the Church of Erin may shine with peerless glory as of old…..[Read More]

Pray to St. Patrick with this beloved prayer – A popular prayer in honor of St. Patrick that is often printed on the backs of holy cards. Though the author is unknown, it is a favorite prayer, appealing with its lyric quality.Hail, glorious St. Patrick!we, honor your name,Tho' Erin may claim you,the world knows your fame.The faith of our fathers is ourtreasure too,How holy the thought,that they learned it from you.Thru crosses and trials its firesburn bright,they show us the way,and the truth, and the light,Great Saint!Intercede, that we always may bedevoted and loyal,true children of yours….[Read More]

An ancient Irish litany to the Blessed Virgin Mary– It is likely that this litany was used at the monastery of Clonsast around the year 725 and was later translated into Latin.
In 1862 Eugene O'Curry, a professor from the Catholic University of Ireland (founded by Blessed John Henry Newman), saved from oblivion a litany to the Blessed Mother that dates back to the middle of the 8th century. The litany was even approved for private use by Pope Pius IX during that same year.
This prayer of St. Patrick protects you in spiritual combat – According to local tradition, St. Patrick composed the prayer in 433 before he was about to convert High King of Ireland Lóegaire mac Néill. It is called a "lorica," which is usually translated as "breastplate," and is a prayer of one who is going into battle.
I summon today all these powers between me and evil,
Against every cruel merciless power that opposes my body and soul,
Against incantations of false prophets,
Against black laws of pagandom,
Against false laws of heretics,
Against craft of idolatry,
Against spells of women and smiths and wizards,
Against every knowledge that corrupts man's body and soul.
Christ shield me today [Read More]

Anxious? Pray this prayer to St. Brigid of Ireland – Here is a traditional prayer to St. Brigid that is very popular and has been passed down over the years, asking her to grant peace to those suffering anxiety.
Saint Brigid.You were a woman of peace.You brought harmony where there was conflict.You brought light to the darkness.You brought hope to the downcast.May the mantle of your peace cover those who are troubled and anxious, and may peace be firmly rooted in our hearts and in our world.[Read More]
Meditation prayer developed by Irish monks – In particular, the monks responded to the call of St. Paul to "pray without ceasing," by reciting a prayer found in one of the Psalms, highlighted by the 4th-century monk St. John Cassian.
The prayer comes from Psalm 70 and traditionally was prayed while breathing in and out, making it a part of a monk's very breath. This allowed a monk to remain in a constant state of contemplation, calling upon God at every moment of the day.
It is normally translated as, "O God, come to my assistance, O Lord, make haste to help me," and is currently part of the Church's Liturgy of the Hours that priests, religious, and lay people continue to pray. [Read More]
Prayer to Our Lady of Knock for children in the womb – A prayer for children in the womb, written by the Irish bishops' conference.
Lord Jesus, you are the source and lover of life.
Reawaken in us respect for every human life.Help us to see in each child the marvelous work of our Creator.
Open our hearts to welcome every child
as a unique and wonderful gift.
Guide the work of doctors, nurses and midwives.
May the life of a mother and her baby in the womb
be equally cherished and respected. [Read More]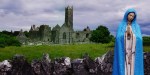 Read more:
An ancient Irish litany to the Blessed Virgin Mary