If you have a difficult time starting your day on the right foot, try these spiritual habits.
The morning can often be the most difficult time of day for many people. It simply isn't easy getting up, realizing all the many responsibilities you may have during the day.
If you are looking for inspiration, here are 5 spiritual ways you can refresh your morning routine.
Click on the links below to learn more about each spiritual habit.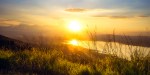 Read more:
Breathe in the love of God with this morning prayer