Pandemic led London university to collaborate on project with St. Vincent de Paul Society.
Over the past year, there have been countless examples of families saying their final goodbyes to loved ones through a video conferencing app such as FaceTime or Zoom. The COVID-19 disease to which the loved one was about to succumb was just too contagious and dangerous to allow for family to be at the ICU bedside. 
While in many of those cases the dying person's hand might have been held by a nurse, the pandemic has raised an important concern: many people in the world, even outside of times of pandemic, die alone. 
The Center for the Art of Dying Well at St. Mary's University in London is thus beginning a partnership with the St. Vincent de Paul Society to train members and volunteers as End of Life Companions.
"The pandemic has raised awareness of the value of companionship in the last months, weeks and days of life," the Center said in a news release. "Our aim is that 500 trained Companions will journey alongside at least 1,500 people who are dying, and their loved ones, to provide hope and companionship. These may be family or friends; members of the local or parish community, or people in hospitals, hospices, or care homes."
The initiative was announced Tuesday, a week before Great Britain plans a National Day of Reflection on March 23 — the first anniversary of the first U.K. pandemic lockdown.
"Volunteer End of Life Companions, recruited from the SVP membership across England and Wales, will take part in training developed by the Center for the Art of Dying Well," the university-based entity said. 
Julie Etchingham, an ITV News journalist and broadcaster, worked with the Art of Dying Well center to develop training content. "If you're going to be an End of Life Companion, you're just walking that path with somebody," Etchingham said. "And sometimes that means they need practical help and sometimes it means they need spiritual uplift. Some people aren't religious and just need companionship. And the companionship in the end is what counts in all of those settings."
Sometimes all a person needs is another person's presence, Etchingham said, whose father is a St. Vincent de Paul member. "You don't need to be a clinician. There are aspects of everybody's personalities that are valuable in people's last days and hours. And I was just really impressed by those who are already doing the work."
Dr. Lynn Bassett, a former healthcare chaplain who is heading up the Companion training, said in a recent Art of Dying Well podcast: "What is it like to be with somebody who is dying? How do we bridge the gap between what the medical professionals are doing, what the family members are doing, and what the person wants?"
Jon Cornwall, Director for Membership of the St. Vincent de Paul Society in England and Wales, said, "This partnership between the Art of Dying Well and the St. Vincent de Paul Society allows training, encouragement and support for members to feel best equipped to be companions at the end of a beneficiary's life when they are their most vulnerable and we are left with the fewest appropriate words of comfort."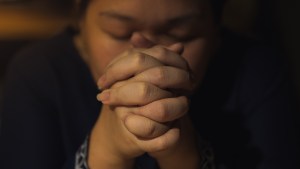 Read more:
Prayer to be delivered from an unexpected death
Read more:
Man receiving hospice care receives his dying wish … to be baptized