Sr. Nuria Calduch-Benages says she will bring her "interests and perspectives" to the position.
The Pontifical Biblical Commission, the Vatican body that interprets and defends the Holy Scriptures, has a new head. On March 9, Pope Francis appointed Sister Nuria Calduch-Benages as secretary of the commission. She is the first woman to ever hold the position. 
As secretary, Calduch-Benages' duties will include coordinating the work of biblical scholars of the Congregation for the Doctrine of the Faith (CDF). There are 20 of these scholars located around the world, who primarily study and interpret Sacred Scripture. As secretary, Calduch-Benages will also act as a consultant for the CDF, directing their studies.
Sr. Nuria Calduch-Benages expresses her surprise and thoughts on being named by Pope Francis as the first female secretary of the Pontifical Biblical Commission. https://t.co/3SfNIbzGpq

— Vatican News (@VaticanNews) March 16, 2021
Biblical scholar
According to the Catholic Register, Sr. Calduch-Benages has long been on the Vatican's radar. In 2008, Pope Benedict XVI named her a biblical expert at the 2008 Synod of Bishops on the Word of God. Similarly,Under Pope Francis, she worked on the 2016 commission studying the historic identity and role of women deacons.
Prior to being named secretary, Calduch-Benages served on the Pontifical Biblical Commission since 2014. Her membership was renewed earlier this year for another five years. She is expected to serve in the secretary position until at least 2025. 
In an interview with Vatican News, Calduch-Benages was asked what she thought women could bring to the study of biblical texts. She responded:
Their expertise, their interests and their perspectives. For example, think of the study of biblical figures who are women, their narratives, the use of female metaphors, feminist hermeneutics, and many other aspects. Forty years ago, when women biblical scholars were almost unheard of, these issues and approaches to Scripture were not given consideration in biblical environments. Today, however, they are highly valued by everyone, men and women alike, and publications are becoming increasingly numerous.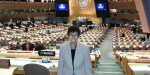 Read more:
A first: Woman appointed to managerial role at Vatican's secretariat of state