Station Church Day 33: A mystic who is patroness of mothers and families rests here.
Aleteia invites you to a virtual Lenten pilgrimage through Rome's 42 station churches: one church per day, from February 17 to April 11.
Day 33
The traffic is chaotic in front of the Basilica of San Crisogono in Trastevere, which despite its grandeur is likely to go unnoticed. Yet, it holds great treasures. To begin with, there's the original 5th-century basilica, now six meters below ground, over which in part was built the current church (12th century). The dedication to St. Chrysogonus actually came even earlier; he was either the martyred bishop of Aquileia, or perhaps the owner of the "domus ecclesiae" on which the basilica was built.
In 1847, Pius IX entrusted the basilica to the Trinitarian Fathers, who still are in charge of it. Their mission—since their community's foundation in the 12th century—is very specific: to free Christians from slavery, originally those who had fallen prisoner to the Moors. This made them a vanguard in the dialogue with Islam. Throughout their history, it's estimated that they freed about 900,000 slaves, and also ransomed works of art. One third of the ransom was paid by the congregation, and the rest by alms.
Also resting in the Basilica of San Crisogono are the remains of Blessed Anna Maria Taigi (1769-1837), a Trinitarian tertiary, a loving wife and an inspiration for family life. God gave her supernatural gifts of wisdom, discernment, and prophecy. For 47 years she perceived a sun shining in front of her face, in which she saw the state of souls. Her life, almost hidden, still shines like a sun for many people of our time.
Jesus said,

"Neither do I condemn you.

Go your way, and from now on do not sin again."

Jn 8:11
* In collaboration with the Office for Social Communications of the Vicariate of Rome.


Read more:
The little-known ruins under the Basilica of San Crisogono in Rome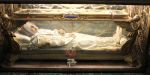 Read more:
This patroness of mothers and families is proof that marriage is a path to sanctity


Read about the tradition of the station churches here. And see previous churches in the pilgrimage here.
Launch the slideshow