Anne Dickson is working hard to bring joy to the residents of Pittsburgh with pop-up flower displays.
Florists have been hard hit by the pandemic. With major events being canceled, a lot of work and profit has dried up. However, one Pittsburgh florist, Anne Dickson, has decided to put her skills and time to good use.
Inspired by fellow florist, New Yorker Louis Miller, who's been creating some stunning "flower flashes" to brighten up New York City, Dickson decided she wanted to spread some floral joy in her own community, according to the Pittsburgh Post-Gazette.
She started by sharing her gratitude with health workers for all their hard work. So the owner of Fox and the Fleur florists went along to Shadyside's Family House, where patients and their families can stay together. She brought some bright blooms to decorate the facade of the house with an impressive installation. She also tagged her work "F&F [Heart] Pittsburgh #flower power" in chalk on the sidewalk in front of the home, and added it to her Instagram account to spread a little more joy.
From there Dickson created more impressive pop-up displays: from brightening up a light pole to creating an impressive display in a recycling can. While the impressive creations take a lot of hard work, the florist is thankful to  one of her suppliers, B W Wholesales, for passing on flowers to her that would otherwise been thrown out.
While the blooms might not last long, and Dickson makes sure they're taken down once they've faded, she is bringing a lot of color to the streets of Pittsburgh. And she's also bringing a touch of suspense, with residents wondering where she might strike next.
"It's a way to bring joy, even momentary joy, into people's lives," explains the florist. It's the same joy that she discovered when her passion for gardening turned into an opportunity to create bouquets for delighted family members, four years ago. From there her new business, Fox and Fleur, quite literally bloomed.
The mom of three boys plans to continue her surprise displays in the coming weeks while the weather is suitable for these sorts of arrangements. For those living in the Pittsburgh area, Dickson welcomes location suggestions via her Instagram account @fox.andthefleur.
*****
Anne Dickson's hard work is just one of many examples of people trying to spread a little joy during pretty dismal times. Many celebrities and sports stars have also stepped up to try and lend a hand during this past year. To read a little more, click on the slideshow below: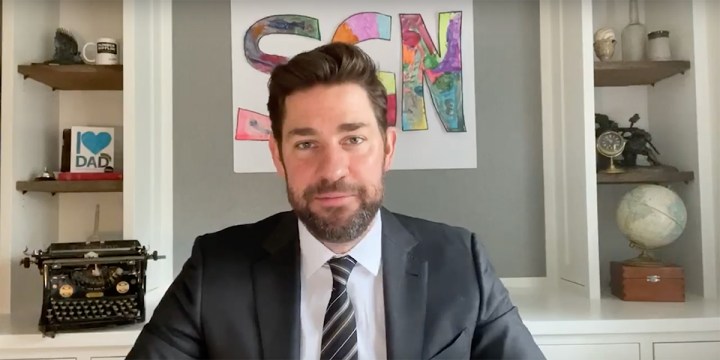 Launch the slideshow