Imagine if we responded to the unexpected the way Mary did?
They say if you want to make God laugh, tell Him your plans. These words must have extra resonance for all of us who've lived through the past year. So many plans we had, large and small, were wiped away in an instant just over a year ago.
Now, a year later, we are beginning to see the light at the end of the tunnel as the pandemic seems to be waning. But we've all faced this frustrating yet incontrovertible realization: We are not writing the scripts of our own life stories.
It is God who's in control, not any of us. No matter how many times we learn this lesson, it always seems that we must learn it again the next time we confront an unexpected challenge.
Years ago, I remember pouring my heart out in prayer for the greatest intention I had. As time passed, it seemed unlikely that the prayer would be answered the way I wanted. I slowly came to accept that it was God's will that it would not happen. Finally I found a deep peace in that internal surrender.
Imagine my shock when God granted that prayer request just a short time later! Naively, I thought, "Well, forever after this, I've learned to surrender my will to God's."
I laughed over that assumption many times in the following years. Unforeseen setbacks and failed efforts taught me that surrender is not a one-time achievement: It's an ongoing process that lasts all of our lives. Radical trust and total surrender to God's will are lessons we have to learn again, and again, and again.
As I have tried to take to heart this lesson of surrender over the years, I return repeatedly to the example of Our Lady. She is our model in so many things, not least in her response when she faced an unexpected change to her plans.
Before the Annunciation, Mary's life seemed to be following a clear and familiar path for a girl of her era. She was betrothed in marriage, preparing to move to her husband's home and become a wife and mother. Her life seemed predictable, not much different from that of all the young women around her.
Then the angel came on that fateful day and changed everything. Mary's response is the key that reveals how we should react when God shocks us with a change in plans. She said, "Behold, I am the handmaid of the Lord. May it be done to me according to your word" (Luke 1:38).
Many of us struggle to accept even the smallest changes to what we expected and planned. How would our lives be different if we responded as Our Lady did when our plans are upended?
Of course, the news Mary received was the best news in the world, while our own changes in plan may be bad news we don't want to hear. But that doesn't mean we can't learn from her witness. Scripture reminds us to trust in God in both good times and in bad: "The Lord gave and the Lord has taken away; blessed be the name of the Lord!" (Job 1:21)
Imagine if our default response to things not going as we expected was not frustration and resistance, but trustful surrender. Externally, perhaps nothing would seem different. But internally, learning to react with trust and acceptance would bring us a profound peace—the peace that the world cannot give (John 14:27).
This Annunciation, let's take some time to reflect on Mary's response to the angel. How can we apply her response to areas in our own lives?
Let's look to her example and consider ways that we can work toward responding as she did. As we learn to meet changes in plans with an imitation of Our Lady's peaceful surrender, we too can make of our lives a loving and trustful fiat.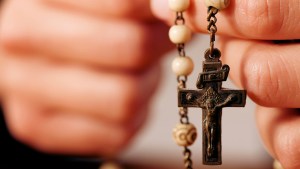 Read more:
Struggling to surrender yourself to God? Try this Chaplet of the Fiat
Read more:
Follow Mary's F.I.A.T. to say yes to God