Learning to hear the call of Christ the King
I once almost caused a scene in a movie theater.
When I was a college junior, just 20 years old, I went to the theater to see the movie Excalibur, a rather imaginative retelling of the story of King Arthur and his famous sword. (Please note: the movie earned its 'R' rating.)  At one point in the movie, the young King Arthur jumps up on a horse—a white horse, naturally—waves his sword in the air and calls out, "Any man who would be a knight and follow a king, follow me!"
And I almost found myself running down the aisle of the movie theater towards the screen yelling, "Take me! I wanna go with you! Take me! I wanna be a knight and follow a king! Take me! I wanna be a knight and follow a king!" 
You might shake your head at such youthful exuberance. You may object: "Isn't the idea of a king passé? Isn't the celebration of kingship embarrassingly retrograde and sexist? Surely, no one would celebrate kingship as 'progressive'! And surely democracies have no use for a king!"
I answer that now, more than ever, we need a king. A true king is a wise warrior who offers his people protection and vision; said another way, a true king gives his people boundaries that may not be crossed and horizons that must be reached. Without protection, the vulnerable suffer, and without horizons, the people wither. Even if a leader offers "change we can believe in," even if he offers change that we must believe in because we cannot avoid the change imposed upon us, even then—no, especially then—we need a true king.
St. Ignatius Loyola can teach us what a true king is. In his Spiritual Exercises, he asks us to imagine a good, earthly king, who rallies his subjects to join him in a great cause. And how should one respond to the call of a good, earthly king? Ignatius describes the proper response to the call of a good, earthly king using these words. Ignatius writes:
I will consider what the answer of good subjects ought to be to such a generous and noble king, and consequently, if anyone would refuse the request of such a king how he would deserve to be despised by everyone, and considered an unworthy knight.
According to St. Ignatius, Christ the King calls each and all of us with the following words:
It is My will to conquer the whole world and all My enemies, and thus to enter into the glory of My Father. Whoever wishes to come with Me must labor with Me, so that following Me in suffering, he may also follow Me in glory.
I believe firmly that Christ our King, our wise warrior, still offers His people protection and vision, boundaries and horizons. Christ our King still calls us to join Him in winning back the Kingdom for our heavenly Father. Christ the King today, as always, calls us to glory.
Read more:
When the Devil's at work, here's what St. Ignatius says we should do
If you listen carefully to what the Church proclaims, if you listen carefully to the deepest stirrings of your own heart, you will find that Christ the King is calling you.
Each of us has a call; each of us, in his own way, is called, as St. Ignatius said, to distinguish himself in the service of Christ the King. Whether in the daily routine of domestic life, or the high drama of fighting fires or fighting wars, we are called to follow Christ the King to glory, to the home of our Heavenly Father, where already a banquet is prepared for us. 
While considering the call of Christ the King in your own life, ponder this—Christ is the only King who is worthy of worship. The word "worship" comes from the Old English weorthscipe (worthiness, acknowledgement of worth). If we owe God worship as a matter of justice (and, yes, of course, as a matter of love) then worship is the mandate and measure of our lives! It is our happy privilege and our solemn obligation.
As you ponder this, remember too that there is a false king, a usurper, who wants you for himself. St. Ignatius called him "the enemy of our human nature"; Scripture calls him "the Accuser", that is, Satan. At every moment, we have to decide whom we will follow, whom we will serve. And at the moment of death, our choice becomes irrevocable.
When I write next I will speak of answering Christ's call while resisting Satan's lies. Until then, let's keep each other in prayer.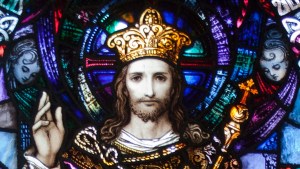 Read more:
Why do we say that "Christ is King"?