The captivating Emma Sophia takes us on a trip to the Emerald Isle in this viral video.
Need an idea for Lenten almsgiving?
Help us spread faith on the internet. Would you consider donating just $10, so we can continue creating free, uplifting content?
Make a Lenten donation here
There's something so special about the dulcet tones of a young child. Now mix that with the haunting "Danny Boy" and some stunning Irish scenery, and you'll be in for a treat.
The day before St. Patrick's Day, a 4-year-old's version of the traditional Irish air was shared on social media, and has since garnered millions of views. The youngster, Emma Sophia, from Kinsale, was filmed singing the ballad first against the beautiful backdrop of Nohoval Cove and the Old Head of Kinsale, and then on the grounds of a 6th-century church in Kinsale.
Donned in a traditional Aran sweater, the little songstress sits earnestly as she enunciates every single word of the ballad that is notoriously difficult to sing. With her curls dancing in the wind, there's a sense of nostalgia that matches the sentiment of the song that was written over a century ago by Frederic Weatherly, and set to the tune "Londonderry Air."  
The oh-so-sweet version invites you to enjoy an "emotional and spiritual experience" and has been "dedicated to everyone with Irish blood in their veins," according to the Youtube post. This is perhaps particularly poignant for the millions of Irish living around the world unable to return home at the moment.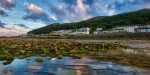 Read more:
This Irish blessing is what we all need to hear today