These prayers can bring comfort and solace to those who are nearing their journey home.
Death is frightening for many people, as it is something we have never experienced before and we do not know what will happen to our souls.
Yet, for people with faith in God, death can be something joyful and peaceful, knowing that it will lead to an end to earthly pain, opening the doors to eternal life.
Prayers can help us come to terms with our fate. Here are a handful of Catholic prayers for the dying that can help us, or a loved one, fall asleep peacefully in the arms of our Savior.
1
Blessed John Henry Newman
Oh, my Lord and Savior,
support me in that hour
in the strong arms of your Sacraments,
and by the fresh fragrance of your consolations.
Let the absolving words be said over me,
and the holy oil sign and seal me,
and your own Body be my food,
and your Blood my sprinkling;
and let my sweet Mother, Mary, breathe on me,
and my Angel whisper peace to me,
and my glorious Saints (NN.) smile upon me;
that in them all, and through them all,
I may receive the gift of perseverance,
and die, as I desire to live,
in your faith, in your Church, in your service,
and in your love. Amen.
2
Prayer to St. Joseph for a Happy Death
O Blessed Joseph, you gave your last breath in the loving embrace of Jesus and Mary. When the seal of death shall close my life, come with Jesus and Mary to aid me. Obtain for me this solace for that hour – to die with their holy arms around me. Jesus, Mary and Joseph, I commend my soul, living and dying, into your sacred arms. Amen.
3
Prayer for a dying friend or family member
I commend you, my dear brother/sister,
to almighty God,
and entrust you to your Creator.
May you return to Him
who formed you from the dust of the earth.
May holy Mary, the angels and the saints
come to meet you as you go forth from this life.
May Christ who was crucified for you
bring you freedom and peace.
May Christ who died for you
admit you into his garden of paradise.
May Christ, the true Shepherd,
acknowledge you as one of his flock.
May he forgive all your sins,
and set you among those he has chosen.
May you see your Redeemer face to face,
and enjoy the vision of God for ever.
Amen.
4
Prayer to St. Anthony Mary Claret for someone dying of cancer
St. Anthony Mary Claret, during your life on earth you often comforted the afflicted and showed such tender love and compassion for the sick and sinful.
Intercede for me now that you rejoice in the reward of your virtues in heavenly glory.
Look with pity on me [or on the person for whom you are praying] and grant my prayer, if such be the will of God.
Make my troubles your own.
Speak a word for me to the Immaculate Heart of Mary to obtain by her powerful intercession the grace I yearn for so ardently, and a blessing to strengthen me during life, assist me at the hour of death, and lead me to a happy eternity. Amen.
5
Prayer for those who will die today
Most merciful Jesus, Lover of souls! I ask you, by the agony of your most sacred Heart, and by the sorrows of your immaculate Mother, cleanse in your own blood everyone in the whole world who are now in their agony and will die this day. Amen.
Heart of Jesus, once in agony, have mercy on the dying.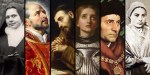 Read more:
6 Saints' powerful dying words