Kira Fontana wrote 'Refuge' while finding her Christian faith.
What can God do in your life with one Bible verse a day?
Subscribe to Aleteia's new service and bring Scripture into your morning:
Just one verse each day.
Click to bring God's word to your inbox
Kira Fontana, one of the top celebrity vocal coaches in Los Angeles, just released her first crossover album, Refuge. The eight-song EP was written as the artist came to accept her Christian faith, using melodies she heard in dreams. 
A faith journey
Fontana has made a career out of training Top 40 artists and coaching contestants on The Voice, as well as the actors of Glee. Although she found success as a teacher, the artist became discouraged with the music industry and eventually stopped writing songs. According to a press release, this all changed in 2017, when members of her family converted to Christianity.
Fontana"s mother urged her to practice prayer, a simple plea to "see truth." Fontana followed her advice and as she prayed she began to recognize "the evil and darkness that was surrounding her." She said:
"I finally saw the world for what it was instead of what I wanted it to be, and I began to see my own need for Jesus."
The following year was spent in intensive introspection as she accepted her faith and began to give herself to Jesus. She explained that the process of finding her faith was disillusioning and she struggled at first. One night, she was praying that she might understand why she is here and what her purpose should be. According to Fontana, that very night she received the basis for Refuge.Fontana said:
"I heard this melody and it was like better than anything I'd ever written. It was so powerful. I got up and immediately went to the piano and, I mean, I haven't written in years, but I wrote the melody for 'Refuge.' Well, God gave me that melody. I can't take credit for it. I literally heard it in the dream and tried to capture it. That's what I did throughout the whole process of writing that song and it turned out that that happened with many others after."
Songs of spiritual warfare
Fontana describes the album as a "set of spiritual warfare songs." They are a testimony to Fontana's hard won faith with inspired melodies divined through dreams. She explained:
"I was so inspired by the Psalms and seeking God when you're surrounded by enemies, when you're surrounded by darkness. And I think God showed me [I was surrounded by] darkness and that He'd brought me out of the darkness and into the light. That's what I have to speak about that he's done for me. Right when I felt like I had no purpose and no reason to be here and no music left in me, He gave me that song."
The music
The eight tracks of Refuge are indeed filled with inspired, memorable melodies. One of our favorite tracks was "Hearts on Fire," a modern hymn for Christ's intercession. "Kingdom Come" is another powerful track that expertly builds until an orchestra erupts around her. Fontana, who is also a trained composer, arranged all the strings on her own.
Refuge is a tremendous showing for a first faith album. Fontana writes faithful lyrics better than some artists who have spent their whole lives studying Christianity. The work is as inspirational as it was inspired and it is bound to resonate with those on their own faith journeys. 
Click here to learn more about Kira Fontana.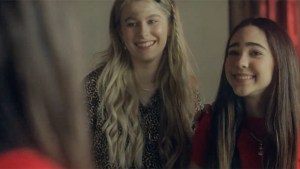 Read more:
Young Christian artist Estella Kirk's promising debut EP