Saintly women have always valued faithfulness to God's call over obedience to cultural norms.
From St. Mary Magdalene proclaiming the Resurrection (in the face of insistence that her story sounded like nonsense) to St. Teresa of Calcutta vocally opposing abortion in spaces where a pro-life witness wasn't welcome, saintly women have always valued faithfulness to God's call over obedience to cultural norms. At the end of Women's History Month, let's celebrate some female saints who were trailblazers, ignoring critics who tried to box them in when God was sending them out.
St. Clare of Assisi (1194-1253) was one of St. Francis of Assisi's earliest followers. She sneaked out of her home in Italy and ran away to Francis, who cut off her hair so that Clare's noble father would be less inclined to force her to marry. Clare soon founded the Poor Clares (called the Poor Ladies at the time). Like Francis, Mother Clare was determined that her nuns would not become rich and complacent as so many orders had, so in their rule she stipulated that the order would depend entirely on the generosity of their benefactors. Several popes tried to talk her out of this, leading Mother Clare to say to Pope Gregory IX, "Holy Father, I crave absolution from my sins but I desire not to be absolved from the obligation of following Jesus Christ." Mother Clare continued to fight for this privilege of poverty until her rule was finally approved. It seems she was waiting to die until she knew her spiritual daughters would be protected, because she died a mere two days after winning the battle she had fought for so long.
Ven. Ignacia del Espíritu Santo (1663-1748) was a Filipina-Chinese woman living in the Philippines. Though she felt called to religious life, it was illegal at the time for Filipinos to enter religious orders (even the one that had been operating in the Philippines for 60 years). Ignacia refused to be deterred by these racist policies, choosing to live an unofficial religious life with other Filipinas. After nearly 50 years, these women were finally given approval and the Sisters of the Religious of the Virgin Mary became the first order for native Filipina women. This accomplished, Mother Ignacia stepped down as superior and lived the rest of her life as a simple Sister.
Bl. Maria Antonia de Paz y Figueroa (1730-1799) was an Argentinean devotee of the Spiritual Exercises of St. Ignatius Loyola. When the king of Spain expelled all the Jesuits from his territories in 1767, Mama Antula (as she was known) began to wander the country barefoot, offering retreats to anyone who was willing to come. For years Mama Antula was called a madwoman and a witch by powerful people who couldn't comprehend that a woman might preach and teach. Eventually everyone was convinced, and over the next 20 years, Mama Antula led more than 100,000 people through the Spiritual Exercises. The Archbishop of Buenos Aires even made a rule in his archdiocese that no seminarian could be ordained without making the Spiritual Exercises with Mama Antula and being recommended by her for Holy Orders.
Bl. Anne-Marie Javouhey (1779-1851) began by hiding priests in her native France during the Revolution. Later, she founded a religious order and opened a school and an orphanage (also in France), playing soccer with village children to entreat them to come to class. But eventually, she began to travel. She served in Senegal, in Zambia, in Sierra Leone, in French Guyana, and more. She founded a village for formerly enslaved people who had recently taken back their freedom, fought against the slave trade, formed integrated schools, and sent her Sisters throughout the world. So remarkable was Sr. Anne-Marie that much of her work was done at the request of bishops and government officials. Rather than dismiss her (at a time when women weren't generally viewed as adventurers and explorers), they saw her gifts and asked her to use them. Many other men, however, despised her as a woman and as a warrior for justice; they called her a servant of the devil, had her excommunicated, and even paid a man to drown her (though he repented before he had carried out his commission). Ultimately, Sr. Anne-Marie was vindicated. Years after her death, Pope Pius XI referred to her as "the first woman missionary"; though there had been female missionaries since the beginning of Christianity, the work of Bl. Anne-Marie Javouhey remains impressive and truly revolutionary among modern missionaries.
St. Laura Montoya (1874-1949) was a Colombian woman who founded a religious order expressly to serve the Native people of Colombia. Laura required that her Sisters live as the Indigenous people did and speak their languages. White Colombians were shocked that women would choose to live among the Indigenous people. Perhaps worse (to their minds) was the fact that the Sisters went into the jungle without any men to protect them and without any priests to provide Sacraments. Mother Laura was accused of hating men, but she was unconcerned with popular opinion and continued her work, as her order does to this day.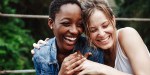 Read more:
10 Women from the Bible who lived out the feminine genius