For some women, this sacrament brings needed peace and healing.
At first glance, it might seem like a strange idea for a woman to receive the Sacrament of Anointing of the Sick when she's preparing to give birth. In fact, I probably would have been shocked if someone had suggested this to me during my first pregnancy.
"This sacrament is reserved for those who are seriously ill," I would have said. "Pregnancy is not an illness. Birth is not a disease. Why on earth would I receive this sacrament before the perfectly natural, normal process of having a baby?"
Then I had my baby. It was an unexpectedly difficult birth that involved significant risk to both myself and my child.
I slowly came to realize that birth is a perfectly natural process for women—but for some of us, it's more complicated and even potentially dangerous.
In the United States, more than 17 women out of 100,000 die during pregnancy or childbirth each year. Many more have high-risk pregnancies and deliveries. For those of us who fall into the high-risk category, receiving the Anointing of the Sick brings immense spiritual healing and peace.
The Catechism tells us that Anointing of the Sick may be given for serious illness:
The Rite of Anointing tells us there is no need to wait until a person is at the point of death to receive the Sacrament. A careful judgment about the serious nature of the illness is sufficient.
After my first child, I've received Anointing of the Sick before each birth. I consulted with two experienced and knowledgeable priests, both pastors in my area. Both agreed that receiving this sacrament made sense for my situation as I face high-risk births.
The effect of this sacrament and its graces has been an enormous gift as I prepare for birth. Each time, as the priest gives me the sacrament, I feel God's warmth and peace fill my soul. I am able to face the birth and recovery with a calmness that can only come from a higher source.
This reaction is exactly what the Church tells us can come with this sacrament. The Catechism says,
In the Church's Sacrament of Anointing of the Sick, through the ministry of the priest, it is Jesus who touches the sick to heal them from sin – and sometimes even from physical ailment. His cures were signs of the arrival of the Kingdom of God. The core message of his healing tells us of his plan to conquer sin and death by his dying and rising. When the Sacrament of Anointing of the Sick is given, the hoped-for effect is that, if it be God's will, the person be physically healed of illness. But even if there is no physical healing, the primary effect of the Sacrament is a spiritual healing by which the sick person receives the Holy Spirit's gift of peace and courage to deal with the difficulties that accompany serious illness or the frailty of old age.
I have found that this spiritual healing is almost palpable. This sacrament has been an immense help to me in facing the difficulties of childbirth and postpartum recovery.
As I prepared for the birth of my fourth child (born last week!), I arranged to receive this sacrament from my parish priest once again. I also began to wonder if it's common to receive this sacrament before birth, or if my situation is unusual.
I reached out through social media to other Catholic moms and to my surprise, dozens and dozens of women replied that they have received this sacrament before giving birth as well.
Not surprisingly, all of the women who told me they follow this practice are women who've had multiple c-sections, which comes with higher risks.
Here are the reasons 12 women shared with me about why they opted to receive the Anointing of the Sick before giving birth …
Launch the slideshow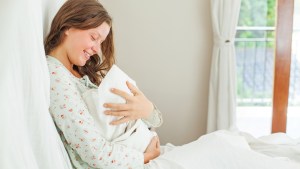 Read more:
The one thing every pregnant mom should know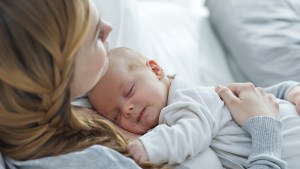 Read more:
5 Postpartum tips for Catholic moms