These students put on a fantastic performance while socially distanced.
The All Catholic String Orchestra, Chorus and Concert Bands did not let the pandemic stop their annual "Concert of Excellence" in 2021. Students from the Archdiocese of Philadelphia spread out in the empty auditorium to maintain social distance while they performed. The kids put on an adept performance of sacred music from Mozart to Rachmaninoff, with hymns and spirituals peppered in. 
The performances were far above the average adolescent ensemble level this year, despite limited in-person rehearsals. On a normal year, a spring concert is the culmination of months of ensemble rehearsals, but this year students studied and practiced all on their own. Despite the obstacles presented by numerous technical considerations, the students sing to near perfection.
According to Catholic Philly, The "Concert of Excellence" normally draws the best scholastic ensembles to perform in one huge show at Kimmel Center's Verizon Hall. This year, however, the show was split into three performances at local high schools. The concert featured above took place on March 20 and was directed by Joseph Lovecchio, conductor of the Warminster Symphony Orchestra.
The first concert was held on March 6 and the final installment of this year's series will take place on April 11. Thomas Kuchler, director of performing arts at Conwell-Egan Catholic High School, called the series "a beautiful step in the right direction, a step toward normalcy." With any luck, next year's show will return to an in-person format.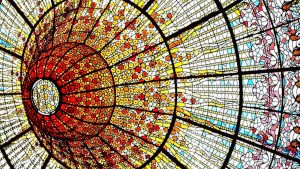 Read more:
Lose yourself in the absolute beauty of sacred choral music