None of the churchgoers who were leaving Palm Sunday Mass at the Cathedral of Makassar were killed.
Need an idea for Lenten almsgiving?
Help us spread faith on the internet. Would you consider donating just $10, so we can continue creating free, uplifting content?
Make a Lenten donation here
A suspected suicide bombing resulted in the injury of several church-goers leaving Palm Sunday Mass at the Sacred Heart Cathedral in Makassar City, Indonesia. The only deaths so far reported were the two suspected bombers.
The two were on a motorbike and were stopped outside the church; the explosion detonated around 10:30 am local time, right as the Mass was ending.
The attack is being investigated as terrorism.
The Holy Father prayed for the victims at the Angelus address this morning.
"Let us pray for all the victims of violence, in particular the victims of this morning's attack in Indonesia, in front of the Cathedral of Makassar. May the Madonna who always precedes us on the path of faith help us," he said.
Terrorism
Being that the attack was on Palm Sunday, it brings to mind the twin suicide bombings in Egypt on Palm Sunday of 2017. Those two attacks were in Tanta and Alexandria, and at least 45 people died.
In May of 2018, three Christian churches were attacked in Indonesia, in Surabaya.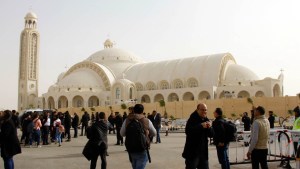 Read more:
Imam foils bomb attack against Coptic church in Egypt