Complex painting by Van Eyck brothers includes famed "Adoration of the Mystic Lamb."
The Ghent Altarpiece, which is now on full display following a yearslong restoration, "confronts us with humans' eternal quest for mystery," commented Bishop Lode Van Hecke of Ghent, during an unveiling March 25. "I am convinced that many people will find personal resonance here."
The bishop was joined by the Flemish Prime Minister Jan Jambon for a ceremony in the Cathedral of St. Bavo in Ghent, where the Adoration of the Mystic Lamb altarpiece, completed by Jan and Hubert Van Eyck in 1432, will now be viewable by all visitors.
Beginning in October 2012, Belgium's Royal Institute for Cultural Heritage led a €2.2 million altarpiece conservation project, within a specially constructed laboratory at Ghent's Museum of Fine Arts. The restoration involved peeling off layers of paint that were added on top of the original — overpainting — and revealed surprising details.
The most striking change in the work, in addition to more vibrant colors, is the face of the lamb itself, which is an almost human-looking face — appropriate, since it is a symbol of Christ, the Lamb of God. 
The Art Newspaper reported that the altarpiece, which had been moved several times in the cathedral over the centuries, will now be seen in one of the largest chapels, close to its original site. It is now kept in an almost 20-foot tall climate-controlled glass case. The newspaper reported: 
The huge case allows the wings of the 12-panel altarpiece to be opened automatically each morning and closed again in the evening, and for visitors to see both the jewel-like fronts of the 12 panels, and the more muted paintings on their reverse of Old Testament figures and the 15th-century donors who commissioned it. The case will protect the panels from direct sunlight, and from erratic temperatures in the building which can fall as low as 2 degrees celsius [35.6 F] in winter, and incorporates a backup passive system in case of a power failure.
The new set-up for the work of art is accompanied by a new visitor center in the church's crypt, where visitors will learn of the altarpiece's creation by the Van Eyck brothers in the mid-1420s and the allegorical nature of the various scenes. The visitor center offers augmented reality headsets as an aid for learning. There is also a new staircase and elevator, giving disabled persons easier access to all four levels of the cathedral.
The display opens to the public March 29, but for the time being, entrance will be strictly limited due to the ongoing COVID-19 pandemic.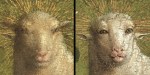 Read more:
Restoration of Ghent Altarpiece reveals surprising face on the "Lamb of God"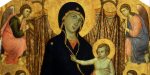 Read more:
Sacred art should be returned to churches, says museum director