On the Wednesday before his Jesus' Passion, Judas agreed to betray him for a relatively small amount of money.
While many in Jerusalem plotted a way to get rid of Jesus, it wasn't until Judas came into the picture that they had a firm plan.
Judas was chosen by Jesus to be an apostle and likely helped the other apostles in spreading the good news about Jesus Christ.
Yet, in the great mystery of evil and human freedom, we know that seeing the miracles of Jesus and hearing him preach were not enough for Judas.
Judas betrayed Jesus, an action that set into motion the events of Jesus' Passion, death, and resurrection.
Here are 4 quick facts about Judas and the effects of his betrayal.
As the days of Holy Week move forward, various events occur that directly lead to what will take place on Good Friday. Among these events was the fateful betrayal of Jesus by one of his own disciples.
Then one of the twelve, who was called Judas Iscariot, went to the chief priests and said, "What will you give me if I deliver him to you?" And they paid him thirty pieces of silver. And from that moment he sought an opportunity to betray him. (Matthew 26:14-16)
This action by Judas earned him the title of "spy" by medieval Christians, in accord with the traditional definition of the English word, "one who keeps secret watch on a person or thing to obtain information."
From Wednesday onward, Judas secretly watched for a chance to turn Jesus over to the chief priests, and so many Christians labeled this day as "Spy Wednesday."
There are several different interpretations. One theory is that the pieces of silver used to pay Judas were equivalent to a Roman denarius. A Roman soldier, for example, was paid about 225 denarii per year.In comparison, a modern-day US military soldier earns about $25,000 a year. In this interpretation, Judas would have been paid about $3,000 in today's value.
On the other hand, various biblical scholars instead point to Exodus, where it describes 30 pieces of silver as the price of a slave. According to CNN's Freedom Project, dedicated to ending modern-day slavery, "In 2009, the average price of a slave was $90."
Based on these interpretations, Judas could have been paid anywhere between $90 and $3,000 in today's sums.
Peter the Apostle wept bitterly, the Scriptures tell us, and repented of his sin. When his resurrected Master greeted him, surely he was amazed that he was neither killed nor excoriated but forgiven, restored, and entrusted with a great mission. The Risen Christ commissioned his repentant traitor with these words: "Feed my sheep."
Judas Iscariot, seeing upon his own hands the blood of an innocent man, his very Master, despaired, and died by his own hand. By sin, we separate ourselves from Christ—yet while we live may still repent, and find the mercy that cost Christ so dearly. But by his despair, Judas Iscariot refused to let himself be found by the risen and merciful Christ.
Now, my friends, during this Holy Week, we sinners have a choice to make. Shall we admit the foolishness, ugliness and malice of our sins? If we do so, what shall we do next? There is still time to repent of our sins, and become a saint, like Peter who betrayed and returned to Our Blessed Lord. Or, shall we hide from Christ, withdraw from Christ, and scorn his mercy? This terrible choice, which every honest sinner must make, we must make especially during Holy Week.
While little is known about his life, the appointment of Matthias as an apostle is the earliest evidence the Catholic Church has of apostolic succession, explaining why even today popes and bishops are chosen to replace those who went before them.
His life also reminds us that the 12 apostles were not the only ones who followed Jesus throughout his public ministry. There were many others, including a "Joseph" who almost became Judas' replacement instead of Matthias. Jesus attracted a crowd of people wherever he went, and some of them continued to follow him, while others left when his teachings were difficult. Matthias was one who gladly accepted Jesus' teaching and was willing to be a "witness to his resurrection," even if it cost him his life.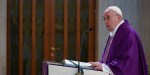 Read more:
Satan pays badly, warns pope, calling us to find the 'Little Judas' we have within