Now it's time for you to choose.
Imagine this: You hear two phones ringing. Which would you answer first? Let's make the scenario more specific—if you knew that one caller was Christ and the other caller was Satan, which phone would you answer and which would you ignore?
In fact, both Christ and Satan call to us constantly. Each one asks each of us to join him, to take up his cause. The problem is that the world tries to diminish and discredit the call of Christ, and amplifies and glorifies the call of Satan, while hiding his name (usually). St. Ignatius Loyola knew of these competing calls and wrote about them in his meditation on "The Two Standards" (and by "standard" he meant something more like "brand" or "logo" or "team").
St. Ignatius said that the three hallmarks of Satan's invitation are greed, vainglory, and pride. Satan is the ultimate advocate of "retail therapy," teaching us to love things while using (and discarding) people. He insists that we can't really be happy without the latest, best, and priciest. And if we don't have it, we can blame someone else and take it—because we deserve it!
"Vainglory" isn't a word we hear much today. But we see it at work whenever someone acts like the value of his life depends on the number of his followers on social media; whatever needs to be done to get more LIKES and SHARES on social media, vainglory helps us to do. Being noticed by the crowd can be an addictive substance—some folks, after the first taste, can never have enough. There's panic when the substance is curtailed or fails to satisfy. Any recovering addict can tell you about this awful dynamic.
"Pride" is a funny word. We tell children to "take pride in your work!" (i.e., "Don't hand in sloppy homework") while telling them, "Pride is a sin!" Which is it? Proper respect for God, neighbor, and self is a legitimate form of pride, that is, proper pride precludes us from acting in a way that dishonors God, diminishes our neighbor, and denigrates our own human dignity. Diabolic pride, on the other hand, is that habit of thinking that we're so special that the ordinary rules of common courtesy or fair play, or even the moral law, don't apply to us.
A different offer
We're all too inclined to be taken in by the glitzy advertisements that the "world, the flesh, and the devil" offer to us. Left on our own, we can only come to a bad end. Mercifully, Christ offers us an alternative, but you're not going to like it—at least not at first.
In an old episode of The Simpsons (which I haven't watched in years), we learn that Homer Simpson carries a note in his pocket that reads, "Always do the opposite of what Bart says." St. Ignatius would tell us, "Always do the opposite of what Satan says." Christ gives us the means to do so. Satan offers greed, vainglory, pride; Christ offers poverty, contempt, humility.
In other words, Christ teaches us that ordinarily acceptable things such as material possessions, the recognition of others, and self-regard can become corrupted by Satan. I think Christ would say, "Be ready to let go of whatever has been tainted by Satan." So, if things are becoming more valuable to you than love of God and neighbor, then it's time to take out the trash. If public applause is more important to you than being right in God's eyes, then it's time to walk off the stage. And when we start to think that we're the most important fact in the universe, then it's time to remember that we're finite creatures who will face death and judgment. Not very attractive, right? Don't walk away just yet; there's a deep and powerful wisdom at work here.
I recall watching a film version of a Stephen King novel (I'm not a fan). Satan moves into town and corrupts everyone except the sheriff. The sheriff can't be bought because he doesn't covet what he shouldn't have, and he's willing to let go of whatever would keep him from being good. He couldn't be bribed, seduced, or intimidated. He was a free man—free from disordered or disproportionate desires and free for goodness. That's what Christ is calling us to!
We really do have to choose sides. We really have to "opt-in" for Christ; because we live in a fallen world, the "default value" is for Satan. The struggles of the season of Lent are meant to remind us that we are being contested for, and that we can't afford to be on the losing team. Let's choose accordingly.
When I write next, I will speak of the consolation that only Christ can give. Until then, let's keep each other in prayer.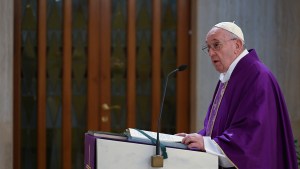 Read more:
Satan pays badly, warns pope, calling us to find the 'Little Judas' we have within