"If you grant me life, I will work wherever you want me to."
Conrado Giménez is a molecular biologist. The vicissitudes of life led him to end up working in three important Spanish banks. He wound up in very important positions, but could never have imagined that a near-fatal accident would change his life.
One day, as he was leaving work, something happened that would become the first step in the greatest project of his life, which was to save thousands of lives. "I came out of preparing for a board meeting and had a near-fatal accident. Someone ignored a yield sign and hit me, driving my car into the wall. The fire department had to pull me out and I lost consciousness."
Conrado was able to wake up in the hospital, and realized that the situation was very touch and go: life or death. "I thought I wasn't going to make it through, and that's why I prayed to God:, 'If you grant me life, I will work wherever you want me to.'"
And although the accident was very serious, "after a few months of recovery I went back to the bank," he says. But this experience made Conrado's life begin to change. "I started to volunteer with the nuns of Mother Teresa of Calcutta, to take care of AIDS patients at night, where the sick were dying and you helped them in that transition."
Conrado tasted what dedication and volunteering was like, and he couldn't stop: "I had a special experience in Peru, in Lima and Cuzco. There I was with street children, where they had nothing to eat and were eating garbage. I fed them and they went with me to the chapel."
Saving mothers
And it was in this place that he discovered a new vocation as a result of his experience: "I was very touched when I saw mothers giving birth who would have bled to death without my help. Then I decided to dedicate myself to the most important business in the world: the family." And Conrado—who knows a lot about business—knows that the "CEO of a family is the mother, the woman. I thought that we had to help her, love her and embrace her in order to move this important company forward."
"I left everything and took that step forward," Conrado told Aleteia. In this process "I made many pilgrimages to the Schoenstatt Shrine— two-hour walks that turned into seven hours."
Conrad had to cross Casa de Campo park in Madrid to reach the chapel. There, he says, "I looked for the girls who were prostituting themselves in Casa de Campo and we prayed together, while their clients were waiting around nearby. I helped them because I saw that they were mothers who were capable of selling their bodies to save their children. Some of them ended up as catechists in a parish."
Conrado therefore began to work to help the women and mothers of Spain. He started this daring enterprise alone, thinking that "if it's a crazy idea it will end in a few months, and if it's from God it will go ahead and God will put the right people there."
Then, he created a specialized food bank: "The baby's bank, where food and help is given for babies. One of the reasons why abortions occur is because mothers don't have the most essential things for life: milk, diapers, food … I collected the food and distributed it".
The Godmother Foundation is born
One of the first women he helped was in a terrible situation. She was "a girl who was going to commit suicide and for whom I was praying all night. The next day I received an email from her that said: 'My dear fairy godmother, my dreams have come true.'" And that's the origin of the name of the project that God wanted him to create: the Godmother Foundation.
She was one of the first cases he dealt with. She was 14 years-old. Now, she's 30-something and has nine children. "I helped her to get ahead and now she helps me with the foundation. We made a shelter. Mothers were being kicked out because their children cried, and so I started to set up the shelter apartments myself. Now we're welcoming about 30 mothers."
Ten years after this crazy idea began, after that terrible accident and his decision to give up his successful career, Conrado Giménez received his first award: the Telva Award. It's an award given by one of the banks where he used to work. "That was God's answer so I would know that this was the right path. They didn't know that I'd been a colleague of theirs. Now I have more godmothers, more coworkers … Even if I had only had one case it would've been worth it."
Unstoppable growth
Since then, his foundation has not stopped growing. "Last year alone we received 320,000 calls for help, a total of 4,000 cases a day," says Conrado. "We've delivered from 30 tons a quarter to 20 tons a day, all as a result of the pandemic. But the fruits of our labor are all the children who've been saved. I envisioned that there was going to be a great need for food and that's why we were prepared. The food bank has saved many lives."
During this pandemic "we've made 1,500 interventions in favor of mothers who didn't want to continue with their pregnancy because of the pandemic. We've given away 10,000 layettes during this pandemic, that is, we have saved 10,000 children."
Looking back, going back to that accident and those first steps 20 years later, Conrado is very clear: "All this is thanks to Our Lady. It would've been impossible to survive without her. It's a project of love for childhood, for motherhood and for the Virgin. It's something sacred and from God that he's placed in my hands, and I pray that I may be a humble and worthy instrument of love in his hands. We can say that we've helped one and a half million children in these 20 years."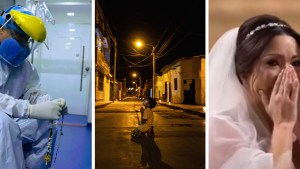 Read more:
Top 10 inspiring stories of the year