Times of waiting can be embraced, and not just endured, when we remember that Christ walks beside us.
All mothers go through seasons of waiting, each as distinct as the woman herself. Whether a woman is waiting to conceive, waiting through the long months of pregnancy for the birth of a child, waiting for an adoption placement, or going through any other season of endurance, patience and a stubborn perseverance are necessary parts of becoming a mother.
A season of waiting that is especially relevant during the Triduum is that of a pregnant mother about to have a child, one of many parallels between a mother giving birth and Christ's Passion and Resurrection.
In the last months of pregnancy, as a mother awaits the coming birth while enduring the pains of third trimester, she seems to walk beside Christ in the Garden of Gethsemane: "Father, if You are willing, let this cup pass from Me; yet not My will, but Yours be done" (Luke 22:42).
The trials of labor, meanwhile, recall Christ's Passion, as the laboring mother seems to physically embody Christ's words, "This is my body, given up for you" (Luke 22:19).
These experiences require extreme physical endurance and stamina. But the seasons of quiet waiting, which appear so much easier on the surface, call for a steadfast resolve of their own.
Waiting can be very hard. During seasons of waiting, things might seem hopeless. There is an emotional agony in not knowing if things will work out, or when they will happen.
Such doubts and fears were very much present on the first Holy Saturday, too. We read in Scripture that the disciples were hiding behind locked doors, for fear of being executed as Christ had been (John 20:19).
Worry, uncertainty, anxiety, and every other difficult emotion that comes with waiting were all part of that first Holy Saturday. There was even the feeling of being totally abandoned, as is not uncommon during difficult times of waiting. Pope Benedict XVI once described Holy Saturday by saying,
God, having made himself man, reached the point of entering man's most extreme and absolute solitude, where not a ray of love enters, where total abandonment reigns without any word of comfort: "hell." Jesus Christ, by remaining in death, passed beyond the door of this ultimate solitude to lead us too to cross it with him. We have all, at some point, felt the frightening sensation of abandonment, and that is what we fear most about death, just as when we were children we were afraid to be alone in the dark and could only be reassured by the presence of a person who loved us.
Considering how hard these seasons of waiting can be leads us to reflect on why Holy Saturday exists. Christ could have risen the day after his death, but instead he gave us this pause. Why?
On Holy Saturday, the Church enters together into a quiet and solemn period of expectation. It's a day when Christians must cling to hope, even when the odds seem stacked against us and the outlook is very bleak indeed.
When we face such seasons of waiting, Holy Saturday reminds us that we are called not just to endure these periods but to embrace them, with their distinct character. As hard as it is to navigate the worries and fears of these times, we can find consolation when we persevere in hope and faithfulness.
Part of the reason to embrace these seasons is our hope that they will end in the glory of the Resurrection. Whether we await news of a pregnancy, the birth of a longed-for child, or any other gift of love from God, hope sustains us that we will soon find Easter joy.
But perhaps the most important reason to embrace hard times of waiting is that we can be assured that we will never walk through these times alone. However long and hard and hopeless the wait, we are never without Christ's presence and consolation, if only we remember it. As Pope Benedict XVI said,
This is exactly what happened on Holy Saturday: the voice of God resounded in the realm of death. The unimaginable occurred: namely, Love penetrated "hell." Even in the extreme darkness of the most absolute human loneliness we may hear a voice that calls us and find a hand that takes ours and leads us out. Human beings live because they are loved and can love; and if love even penetrated the realm of death, then life also even reached there. In the hour of supreme solitude we shall never be alone.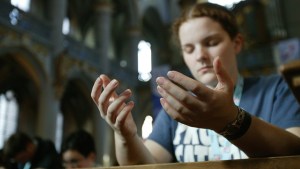 Read more:
Why Holy Saturday has always been a day of prayer and silence
Read more:
How Holy Saturday Gives Us a Taste of Christ's Longing