Family unity must be a priority, say prelates in Holy Week statement.
Catholic bishops on both sides of the U.S.-Mexican border have issued a joint statement on the current situation at the border. 
Reuters on Friday reported that U.S. authorities caught more than 171,000 migrants at the U.S. border with Mexico in March. It's the highest monthly total in two decades.
The data include about 19,000 unaccompanied migrant children and 53,000 family members traveling together, the wire service said.
"The Biden administration is struggling to house newly arrived unaccompanied children, who are exempted from expulsion under a COVID-19 health order known as Title 42," said Reuters. "Children have been backed up in crowded border stations and processing centers for days. The shelter system that houses the children has been overwhelmed and U.S. officials have scrambled in recent weeks to open emergency shelters, including sites in convention centers in Dallas and San Diego."
"As U.S. and Mexican bishops along the border, we witness daily the dilemma that our migrant sisters and brothers face," said the April 1 bishops' statement. "For most, the decision to migrate is not motivated by an indifference toward their homeland or the pursuit of economic prosperity; it is a matter of life or death. The situation is all the more difficult for children."
While acknowledging a nation's right to maintain its borders, the prelates called for humanitarian solutions to the current problem. 
"There is a shared responsibility of all nations to preserve human life and provide for safe, orderly, and humane immigration, including the right to asylum," they said. "For that reason, we renew our appeal to our governments, to political leaders, and civil society, that they work together to welcome, protect, promote, and integrate migrants in accordance with their intrinsic dignity, as well as work with other countries in the region to eliminate conditions that compel their citizens to resort to dangerous and irregular migration, producing long-term solutions."
The bishops added that family unity "must be a vital component" of any response to the current crisis. "We ask that special attention be given to particularly vulnerable populations, such as children," they said. "We strongly urge that structures be put in place and reforms in our laws be made to both promote a welcoming culture for our sisters and brothers and respect the sovereignty and safety of our countries."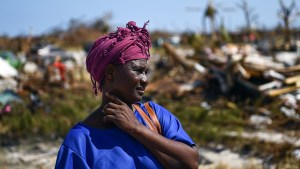 Read more:
The Knights of Columbus are helping at southern border; also sending money to Bahamas
Read more:
US Bishops renew call for immigration reform