It's a good idea to watch this movie with a notebook nearby!
The producers of The Bible Series, Mark Burnett and Roma Downey, now offer viewers a beautiful film that can even be helpful for our meditation in these holy days. It is the new release Resurrection on the streaming platform Discovery+. 
For nearly two decades, believers have watched Mel Gibson's The Passion of the Christ for prayerful reflection close to Easter. I'm certain that Resurrection can be added to our Easter repertoire. 
Here are some powerful scenes and quotes from the film that you can use for your personal prayer and meditation.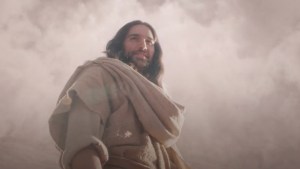 Read more:
Movie review: 'Resurrection' remains faithful to the Bible
How can believers follow him if he's about to be executed?
Resurrection begins with this quote in the introductory moments. It's a question asked because why would someone follow a person whose life has come to such a tragic end? Would a person even want to be associated with him?  Maybe this is why all but one of the apostles scattered on that Good Friday afternoon.
But this is before the rest of the story is known. People follow Him because of what his Resurrection promises.
Why do you follow Jesus in your ordinary life? By today's standards this question could be rephrased, "How can believers follow him if his teachings seem so irrelevant and ignored by society?" But we know, it is his teachings that guide our life and give meaning to all that we do.  
Mary's Portrayal
This cinematic portrayal of Mary of Nazareth is one of the best to have ever graced our televisions. As you watch Resurrection, pay close attention to Mary, her demeanor, what she says, and how she acts. You will find a woman overwhelmed with grief but who nevers loses her faith in her son. You can hear Roma Downey explain the portrayal of Mary in this podcast episode: Touched by the Blessed Mother in the Film Resurrection.
Jesus understood our weaknesses. He loved us for it.
The apostles at times exhibited a lack of faith throughout the gospels. On some occasions, they exhibited fear. James and John are filled with pride. Judas betrays Jesus. Peter denies being His follower. Thomas doubts His resurrection.
The Letter to the Hebrews tells us that we have a high priest who can sympathize with our weaknesses. Jesus, because he was born of the Virgin Mary, understands the human condition. And despite our failings and shortcomings, he loves us for them. The only reminder we need of this is the crucifix. What are your weaknesses? How do you experience Christ's love?
You know me better than I know myself.  
Jesus, after the resurrection, asks Peter three times, "Do you love me?" Peter tells Jesus in this classic resurrection scene, "You know me better than I know myself." God is omniscient. He is all knowing. The Psalmist says he knows the number of hairs on our head and when we sit or lie down. The gospels attest that Jesus knew the thoughts of people before they spoke them; often he addressed what was on people's hearts. 
The truth is Jesus knows us better than we know ourselves. He knows what we need and what is for our good. Sit with this reality and in your prayer, ask Jesus, "What do you know about me that I do not know about myself?" As you sit in silence, the Lord will slowly reveal these things to you.  
Pentecost
The Easter season ends with Pentecost. And Resurrection's portrayal of the scene can raise the hair on someone's arm and leave them with goosebumps. The apostles, united in prayer, pray the Our Father together, and as they do so, getting louder and louder, soon the Holy Spirit descends and they begin to speak in tongues.
The scene shows us the power of praying together as a group, of being united in prayer. When's the last time you prayed with a group?  
The Holy Spirit is with us and makes us strong. 
After the Pentecost event, the apostles become emboldened to share the gospel. They realize that they have the power of the Holy Spirit with them. Baptized and confirmed believers have the Holy Spirit with them and are made strong.
How often do you recall the presence of the Holy Spirit in your life? Do you ever pray to the Holy Spirit? Have you felt stronger because of the Holy Spirit?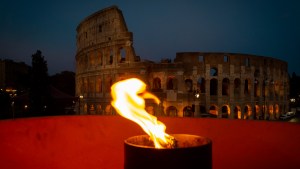 Read more:
Pope teaches how to pray to the Holy Spirit
We are united when we give what we have.  
When Jesus prayed in the Garden of Gethsemane, he prayed that they all might be one. The Apostles realize that what will unite them as they go about their missionary sojourns is their faith. They will be united as they proclaim the life, message, and teachings of Jesus. 
Are you united with the Christian community? How have you shared your faith with others?  
Watch and Pray with Resurrection
You will not be disappointed when you watch Resurrection. You will be moved to pray with many of the scenes. And just maybe, you will watch the film a second time in order to drink from the depths of the well for our prayer. Consider having a notebook nearby, and write down the powerful lines as you hear them, so later you can spend some time quietly thinking, meditating, and praying about this powerful film. 
Read more:
10 Great movies to watch from Palm Sunday to Easter