The prie-dieu will be catalogued and added to the digital collection of the Ground Zero memorial.
A prie-dieu or prayer bench that was used by Fr. Mychal Judge, who died in the 9/11 terror attacks, has been donated to the 9/11 Museum. The kneeler belonged to Judge's twin sister, Dympnia Jessich, and was a gift from an Episcopal monastery in Rising Sun, Maryland, where it spent the last five years, reported the Associated Press.
Fr. Judge, a Catholic Franciscan friar, was a chaplain for the New York City Fire Department. The 9/11 Museum website remembers Judge as a compassionate priest who spent much of his time tending to the homeless. Those who knew him still recall how he took great care to remember things about everyone he met, offering unfaltering spiritual support. 
The Brooklyn-born priest was killed on the morning of September 11, 2001, when the Twin Towers of New York's World Trade Center came under attack. He reportedly was administering prayers in the North Tower when the South Tower collapsed, crushing Fr. Judge. The office of the Chief Medical Examiner listed Judge as the first recorded casualty of the harrowing day. His funeral drew over 3,000 people, including former President Bill Clinton.
The prie-dieu
9/11 Museum acquires prayer bench used by Rev. Mychal Judge. https://t.co/gSlWbWiQKdpic.twitter.com/fhvzIrAVf4

— Fox12Oregon (@fox12oregon) April 4, 2021
The donated prie-dieu was personally used by Fr. Judge. It was kept in his sister's house, where Judge would often visit. Associated Press reports that the leather on the kneeler is worn, with indents left from Judge's knees.
The idea to donate the kneeler to the 9/11 Museum came from Sister Teresa Irene. Five years ago, Jessich, who died earlier this year, donated the bench to the order as she prepared to move to Texas. Now that the sisters are themselves relocating, they decided to offer the kneeler to the museum.
It will take some time for it to be added to the museum's collection, but it was delivered to its New Jersey warehouse on Easter Sunday. Amy Weinstein, senior curator of the museum, said that it would be photographed and catalogued in the museum's digital collection. Soon Judge's prie-dieu will be viewable online. 
Of the kneeler, Weinstein said:
"When you look at it you can see how well used it was. … Some of the leather is cracked. It's really very visually powerful, but very quiet and unassuming also."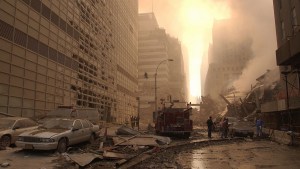 Read more:
5 Lessons we've learned from 9/11 that can help us now