He and his brother were part of a regular group that would take turns praying on Saturday nights.
Pope Francis has sent a letter to Spanish Catholic weekly Alpha and Omega after receiving a photo of a record from the 1950s with his name and a number, showing his participation in a group that took turns praying on Saturday nights at a basilica in the center of Buenos Aires.
The record indicated that as a young man, Pope Francis was one of the many faithful who made regular visits to the Basilica of the Blessed Sacrament in Buenos Aires, Argentina, to pray at night. He would go alongside his brother Óscar, and a neighbor.
"I was moved by the photocopy of the book on nocturnal adoration of the Basilica of the Blessed Sacrament," said Pope Francis in his handwritten note to the Spanish weekly.
From his home in the Flores neighborhood in the outskirts of Buenos Aires, Pope Francis as a youth, would often go by bus to the Basilica, alongside his younger brother, in 1954 and 1955. The future pope would have been 19 or 20 years old at the time and Oscar 17 or 18.
Come, let us adore
It was there that he heard the phrase "Venite adoremus" (Come, let us adore), which the pope says he remembers "with emotion," in his note to the Spanish newspaper.
As the nocturnal adoration was done in turns, the person from the previous shift would wake up the next person with the words "Venite adoremus" to invite them to go for the time of adoration. The adorers would spend the night in the basilica, taking turns resting and praying.
Pope Francis also explained in the letter that since at that time there was no evening Mass, many people who had been at parties during the day came to the Basilica on Saturday nights.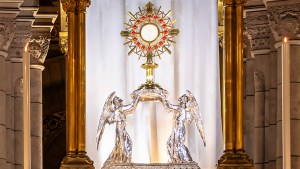 Read more:
The name of the stand used in Eucharistic adoration reminds us what is happening
The example of a merciful priest
"The adoration began around nine o'clock at night after the preaching of Father Aristi," explained the pope in his letter. This priest was the main inspiration in gathering the group that would spend the night in adoration.
At that time, the young Jorge Bergoglio was already living a Christian life, or as he describes it in his letter, he "already had the experience from St. Joseph of Flores" – when he felt a call to the priesthood during confession.
Pope Francis, in a meeting with priests in Rome in March 2014, explained that Fr. José Ramón Aristi was his confessor and a good example of a merciful priest.
Fr. Aristi served as a Provincial in his order and as a professor, but above all he was a well-known confessor with long queues of people waiting for him at the Basilica of the Blessed Sacrament. "Almost all the clergy went to confession with him," the pope explained in 2014.
Pope Francis further told the priests that whenever an uncharitable thought crosses his mind, he touches a little cloth bag that he carries, which contains the cross once attached to the Rosary with which Fr. Aristi was buried. The future pope took the cross at the viewing of the body, praying that the priest would "give me the half of your mercy."
"And I feel the grace! I feel its benefit," the pope said, of carrying the cross with him still today. "What good the example of a merciful priest does, [the example] of a priest who draws close to wounds."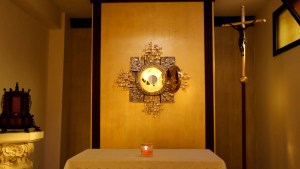 Read more:
A minute-by-minute guide for a Holy Hour of Adoration