Elevate and enrich your prayer time with these lovely lights.
You can get Aleteia inspiration and news in your inbox. Our specially curated newsletter is sent each morning. The best part? It's free.
Sign up here
Candle flames are often used as a symbol for God's love: They bring light and warmth, spread quickly, and change what they touch. Perhaps that's why lighting candles during times of prayer is such a beloved and popular custom.
Scripture reveals how candlelight can remind us of God, and the light that comes from Christ and His Word. The Bible contains hundreds of references to candles, fires, flames, and light.
From "Let there be light" in Genesis 1:3 to the "tongues of fire" that appeared over the Apostles at Pentecost (Acts 2:3), light is a metaphor for God acting in our world. This light dwells within each one of us, as the Gospel song reminds us: "This little light of mine, I'm gonna let it shine."
So it makes all the sense in the world that candles are such an important part of prayer. Candles and incense accompany God's Word at Holy Mass. We light candles for our personal intentions, whether votives at church or candles on a prayer table at home. It's no wonder there are so many benefits to using candles during prayer and meditation!
Lighting a candle for prayer at home is even more profound and special when the candle comes from a Catholic company. Use one of these five beautiful candles to enrich and elevate your times of prayer at home.
Launch the slideshow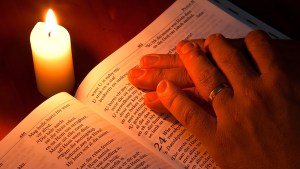 Read more:
5 Benefits of using candles during meditation and prayer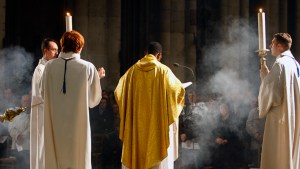 Read more:
Why is the Gospel led by candles and incense at Mass?