If you are suffering from anxiety, here are several prayers to help your soul find peace.
Need an idea for Lenten almsgiving?
Help us spread faith on the internet. Would you consider donating just $10, so we can continue creating free, uplifting content?
Make a Lenten donation here
Anxiety can often be very difficult to handle, especially when anxious thoughts prevent us from completing our everyday tasks. Our mind becomes full of stress, and these feelings are then transferred to our body, creating even more havoc.
While there are many medical interventions that should be explored, we should also go to the "Divine Physician" and ask him for help to ease our anxious souls.
Here are several prayers that many have found comfort in, especially in the midst of anxiety.
Saint Brigid.
You were a woman of peace.
You brought harmony where there was conflict.
You brought light to the darkness.
You brought hope to the downcast.
May the mantle of your peace cover those who are troubled and anxious, and may peace be firmly rooted in our hearts and in our world.
Inspire us to act justly and to reverence all God has made.
Brigid you were a voice for the wounded and the weary.
Strengthen what is weak within us.
Calm us into a quietness that heals and listens.
May we grow each day into greater wholeness in mind, body and spirit. 
O Lord, through the intervention of St. Louis Martin, lift up those who are suffering from depression, anxiety, dementia, and other mental problems and lead them out of the darkness and into Your light.
Let nothing disturb you,
Let nothing frighten you,
All things are passing away:
God never changes.
Patience obtains all things
Whoever has God lacks nothing;
God alone suffices.
Heart of Mary, Mother of God, our Mother, Heart most like the Heart of Jesus, ever compassionate towards our miseries,—thaw our icy hearts, and change them to the likeness of the Heart of Jesus. Be the road leading to Jesus; be the channel whereby we receive all graces needful for our salvation.
Be our help in need, our comfort in trouble, our strength in temptation, our refuge in persecution, our aid in dangers; but most in the last struggle of our life, at the moment of our death.
How great is the sweetness of your Mother's Heart, and the power of your might with Jesus' Heart, opening to us in the very fount of mercy itself a safe refuge, that so one day we too may join with you in paradise in praising Jesus' Heart for ever and for ever. Amen.
O Lord my God, be not far from me. O my God, hasten to help me, for varied thoughts and great fears have risen up within me, afflicting my soul. How shall I escape them unharmed? How shall I dispel them?
"I will go before you," says the Lord, "and will humble the great ones of earth. I will open the doors of the prison, and will reveal to you hidden secrets."
Do as You say, Lord, and let all evil thoughts fly from Your face. This is my hope and my only comfort—to fly to You in all tribulation, to confide in You, and to call on You from the depths of my heart and to await patiently for Your consolation.
My Lord and my God: into your hands I abandon the past and the present and the future, what is small and what is great, what amounts to a little and what amounts to a lot, things temporal and things eternal.
Asking his friend to pray this prayer, St. Josemaria wrote, "Then, don't worry any more."
Father, into your hands I commend my spirit. Lord Jesus receive my soul. Receive my soul, dear Jesus, into your holy keeping. Preserve it from all imaginings that may be displeasing to you. Grant that I may awaken in the morning refreshed, purified and strengthened—able and willing to labor to advance my own salvation and your merciful intentions in regard to myself, to others, and to you. Amen.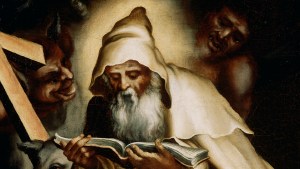 Read more:
Fight anxiety by drawing strength from this icon of St. Anthony