Divine Mercy Sunday reminds us to imitate Christ's merciful love.
Today we celebrate a feast that is very new to the liturgical calendar. Unlike other holy days that the Church has celebrated for nearly two millennia, Divine Mercy Sunday is only 21 years old. But the message God gives us on this feast is desperately needed today.
St. John Paul instituted Divine Mercy Sunday at the canonization of St. Faustina Kowalska in 2000. He had a great devotion to this Polish mystic, and took to heart the message Christ gave her when He said,
My daughter, tell the whole world about My inconceivable mercy. I desire that the Feast of Mercy be a refuge and a shelter for all souls, and especially for poor sinners. On that day the very depths of My tender mercy are open. I pour out a whole ocean of graces upon those souls who approach the fount of My mercy.
Today the Church celebrates Christ's mercy, which means God assures that we can always be forgiven. We can always try again. We have unlimited "second chances." We can always be redeemed, no matter how dire things may seem.
Could there be a more hopeful message? Our world, rife with sin, sorrow, and brokenness, deeply needs this feast that reminds us of God's merciful love for us.
Yet the message of Divine Mercy is twofold. We are not only called to seek out God's mercy for ourselves. We are also called to emulate His mercy and grant it to those around us.
We know that showing mercy is an act of goodness and an imitation of God. But how can we practice mercy in daily life?
Fortunately we have clear guidelines to follow. The Church has laid out for us exactly how to practice Christlike mercy in ordinary life, through the spiritual and corporal works of mercy. The Catechism tells us,
The works of mercy are charitable actions by which we come to the aid of our neighbor in his spiritual and bodily necessities. Instructing, advising, consoling, comforting are spiritual works of mercy, as are forgiving and bearing wrongs patiently. The corporal works of mercy consist especially in feeding the hungry, sheltering the homeless, clothing the naked, visiting the sick and imprisoned, and burying the dead.
Whether husbands and fathers, unmarried and single, lay or religious, all men can participate in living God's mercy as the Church has showed us to do. Here are 5 ways all men can participate in Divine Mercy, both receiving it from God and showing it to other people.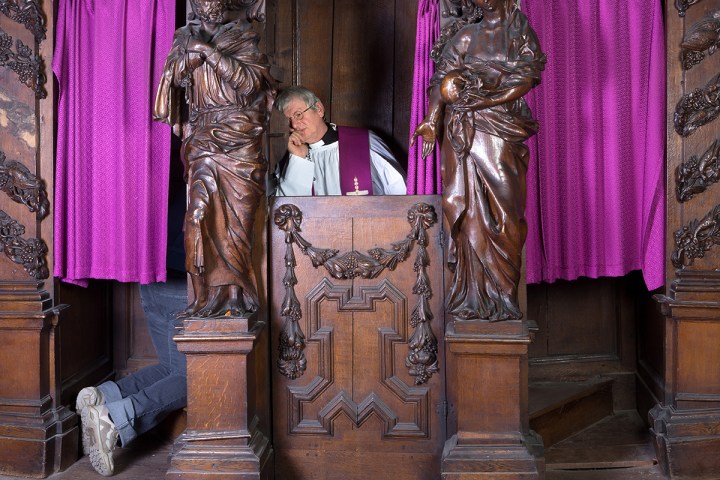 Launch the slideshow


Read more:
Would you like to receive Divine Mercy? Listen to St. John Paul II




Read more:
Works of Mercy Caress, Bind Christ's Wounds, Pope Teaches