Try a little "Ben Zoma therapy" and see what happens.
What can God do in your life with one Bible verse a day?
Subscribe to Aleteia's new service and bring Scripture into your morning:
Just one verse each day.
Click to bring God's word to your inbox
How much income do you need to live well?
I can resolve that ever-vexing question for you. In fact, the answer is simple. No matter your family size or how expensive your town's cost of living, the income level you'll need in order to live well is … wait for it …
… Twice as much as your current income.
Seriously. That was the conclusion suggested by a survey some time ago, and its result should remind us of an ancient truth: In the end, true contentment has little to do with income.
First, let's understand the survey itself. Americans were asked what income they would need to "live well," a phrase that respondents could interpret however they wished. The curious outcome? Across almost all income levels, Americans opined that they would need "twice as much" income in order to live well.
In other words, those making $50,000 annually believed that they would need $100,000 in order to live well. But guess what? Those earning $100,000 opined they would need $200,000 in order to live well, and so on up the income ladder.
The survey hinted at something intriguing (yet discouraging) about human nature: When it comes to wealth, status, and so on, we humans are infected with an itch that can never be scratched to satisfaction. The advertising industry learned this long ago and has feasted on it ever since. No matter how much we earn or attain, we still covet more. If a brief moment of contentment does wash over us, one glance at the neighbor's fancier house will rekindle feelings of inadequacy about our possessions.
The survey suggests that we'll never earn our way out of this nightmare: Folks at all income levels seem to be afflicted by the same restless itch for more. However much you earn or have, you can always find someone who has more. You'll be stuck on this exhausting treadmill for life.
Or, not necessarily …
A solution beckons, a way off the treadmill. It lies in rediscovering and cultivating the simple wisdom attributed to the 2nd-century Jewish sage Shimon Ben Zoma: "Who is rich? He who is happy with what he has."
Sage Ben Zoma is directly challenging us. If we believe we need a lot more in order to live well, it's probably not because we're deprived of what we really need but because we're bewitched by what we want. Or, the demon of "status envy" has caught hold of us: We discover that the neighbor has a fancier car; or that an old school chum earns more; or that a friend takes fancier vacations.
Granted, some folks do struggle daily, deprived unjustly of life's basic needs. We shouldn't callously urge contentment with what little such people have, but do our part, in advocacy and direct charity, so that all might have access to what's needed to live in dignity.
But for many of us, blessed with much more than life's basics? Maybe we need to try some Ben Zoma therapy.
You've heard of "retail therapy," when we're feeling low and indulge in a shopping binge to compensate? What I'm calling "Ben Zoma therapy" is the exact opposite: Devote a day to cultivating contentment with what you have. Take note whenever you feel the sensation of "I want" welling up, and consciously push it aside as a temptation.
Re-focus on contentment with what you have: a dwelling that's warm enough, a refrigerator that's full enough, adequate health, a few friends, a neighborhood that's safe, a back garden, whatever it may be. Re-discover contentment with all that you have.
And, if "Ben Zoma therapy" works for a day, try it for another day, and then another. Before long, you may well find that a life of contentment has become yours.
Chris Lowney is author of the best selling book, Heroic Leadership. Follow Chris onTwitter, LinkedIn, Facebook, and www.chrislowney.com.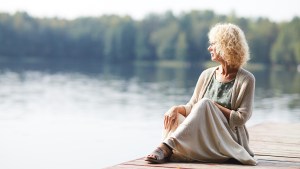 Read more:
Let's make 2021 a year of contentment