Prayers and meditations for every moment of the day using a wide array of Catholic techniques. Come for the prayers, stay for the community.
What can God do in your life with one Bible verse a day?
Subscribe to Aleteia's new service and bring Scripture into your morning:
Just one verse each day.
Click to bring God's word to your inbox
For those unpracticed in prayer, meditation can feel like climbing a mountain. Some of the biggest distractions, especially for the younger generation, are the technological devices that we surround ourselves with. But what if that technology could be put to use as a tool for prayer rather than a hindrance?
That's exactly what the developers of Hallow are dedicating their efforts to achieve. Hallow is a mobile app that endeavors to make Catholic prayer and meditation easier than ever. With over 1,000 guided meditations, prayers, chants, reflections from Catholic figures, Hallow is poised to become an essential prayer companion for the contemplative Catholic.
Hallowed beginnings
Hallow's mission was realized through the faith journey of co-founder and CEO Alex Jones. Jones was raised in the Catholic faith, but fell away from it as he reached adulthood. After a time, he began to explore meditation and other spiritual aspects through secular apps, but as he put it: 
"Though I liked them, always felt like something was missing — like I was being pulled towards something deeper."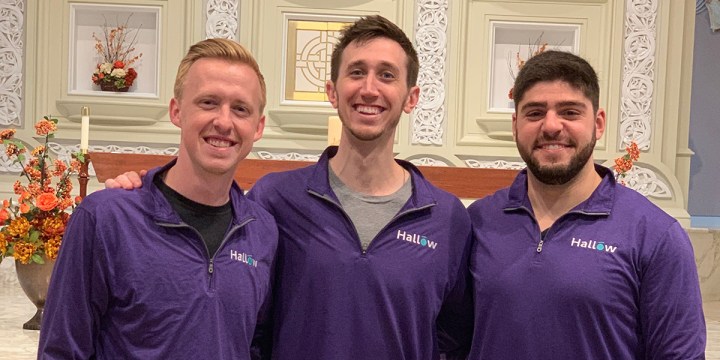 Feeling drawn to contemplative prayer, Jones began to discover the rich tradition of Catholic meditation. Techniques like Lectio Divina (Latin for "divine reading"), the Ignatian examen, and Gregorian chant offered an interactive introspection that helped to reconnect him to the Church. In fact, it was through Lectio Divina that he became inspired to start Hallow. He explains: 
"I sat down one day, googled how to do Lectio Divina, opened up Scripture to a random page, and ended up meditating on the word 'Hallow' in the Our Father. It changed my life. It brought me to tears, to the deepest sense of peace and meaning I'd ever experienced, and passionately back to my Catholic faith and to the Church."
Wanting to share his life-altering experience with the world, Jones sought to find a way to share the beauty, peace, and power of the Church's spirituality with the world. Thus Hallow was born out of a desire to merge the beauty of spirituality with the world-class technology it deserves.  
Mediations and prayer
Part of what makes Hallow so effective is the wide array of content. The "Daily Prayer" section alone has no fewer than 11 Catholic meditative techniques. These range from well known-prayers like the Holy Rosary and the Divine Mercy Chaplet to the lesser known 7 Sorrows of Mary and the Lectio Divina.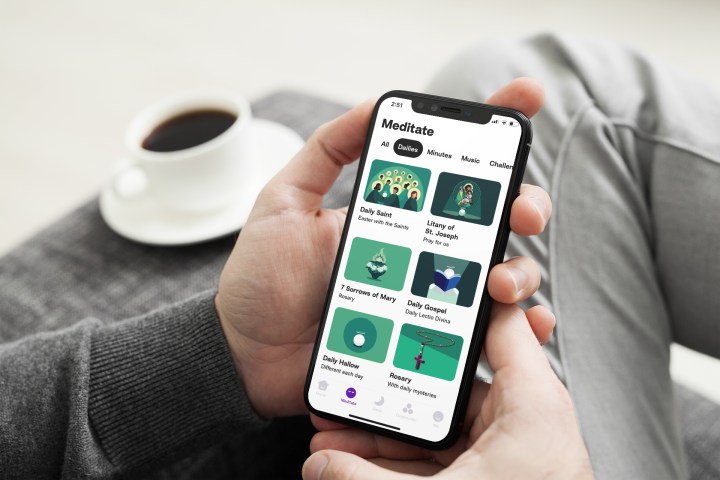 Photo Courtesy of Hallow
Their "Praylists" feature organizes prayer by Catholic themes such as Joy, Humility, Hope, and Gratitude. These offer dozens of individual meditations on each theme in a variety of techniques. Another feature of the app is "Sleep," which helps the faithful keep a prayerful mind as they ready for bed. These include evening prayer and Bible stories read in familiar voices, including those of Fr. Rob Galea, Jonathan Roumie (Jesus in The Chosen), and Fr. Mike Schmitz. 
Schmitz in particular is all over the Hallow app. In Hallow's "Guest Sessions" section, they catalog his weekly homilies. The app even carries Fr. Schmitz's popular "Bible in a Year" podcast, in which he offers daily Bible readings and reflections. 
For on-the-go Catholics, there is no feature more enticing than the "Minute Meditations" section. These are brief 1- to 3-minute prayer sessions that can be completed during a work break or when driving to the store.
Photo Courtesy of Hallow
Building a community
In order to better serve the faithful, Hallow is working to build a Catholic community through the app. The "Community Challenges" section offers challenges such as praying for a certain amount of time or completing the Rosary every day. Another way they are growing the community is by inviting guest speakers to explore different aspects of prayer or examine sacred music.
Music is an essential part of any culture or community, and Hallow is also bringing users new and exclusive Catholic songs. The music section offers more than two dozen albums from Catholic artists such as Brother Isaiah, the Vigil Project, and Schola Antiqua. There is also a wide selection of Gregorian chant for meditations. 
Success and expansion
Hallow was officially released in 2018 and guided the faithful through more than 500,000 prayers in the first year. As the world became stifled by the coronavirus pandemic, that number grew to nearly 10 million. Soon positive feedback and requests for more beautiful prayer and meditation content had them ready to expand.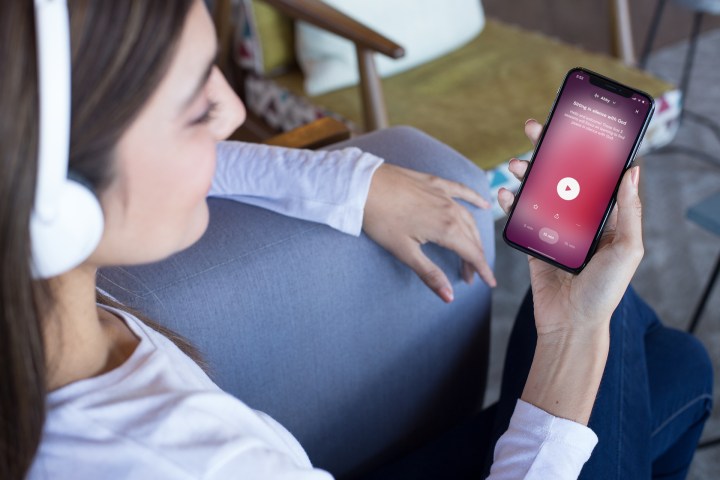 Photo Courtesy of Hallow
Now, Hallow is announcing a new partnership that will see $12 million pumped into this worthy cause. Their new partner, Katherine Boyle, a mission-driven investor from General Catalyst, provided Series A funding that will help Hallow produce a ton of new content. Jones noted that they intend to launch a campaign to reach a broader audience. They will especially focus on those who had fallen away from their faith, just as Jones had when he was inspired to start Hallow.
Jones wrote: 
"We believe there are a lot more people out there just like me: searching for a connection to something bigger, for a deeper sense of peace, or for a closer relationship with God. If we can help just one of them to start a conversation with God — to discover His love and His peace — it will have all been worth it." 
The Hallow app is free to download and use in a limited capacity. To get full access, users must pay for a subscription. As Hallow does not sell any advertising space on the app, they are completely supported by subscriptions. Click here to learn more and download your Hallow app today.