Screen time can be an opportunity for religious education with these brilliant apps.
When it comes to forming the next generation of Catholics, parents have a privileged opportunity to share their faith with their children. The Catechism calls parents "the first heralds of the faith with regard to their children" and Catholic families "domestic churches."
A family's faith community also plays a crucial role in supporting parents' efforts to evangelize their children. Parishes, Catholic schools, and homeschool co-ops can all assist and expand upon the good work being done in the heart of the home.
There are so many ways that parents and educators can be witnesses to the truth, including through praying as a family, doing acts of service, reading about holy men and women, and talking about God.
Besides all these, there are some Catholic apps that can support parents and educators in teaching children about their faith. It's especially nice to know that kids are learning something positive and faith-filled when they're having screen time!
These 5 apps are designed to help teach little ones about the Catholic faith. They can be a useful resource for parents, grandparents, catechists, Catholic school educators, and anyone wanting to share their faith with the children in their lives!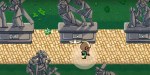 Read more:
Kids encounter saints and learn prayers in this purely Catholic video game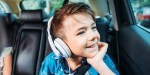 Read more:
5 Great podcasts for Catholic kids


Launch the slideshow