A COVID-19 patient's rosary beads sent a powerful message.
A missionary gave his rosary to a nurse before being intubated at a hospital in Fortaleza, Brazil, and his testimony is touching thousands of lives after the young medical professional shared the story on social networks.
Francisco Brito was a Catholic missionary from Brazil, and a consecrated member of the Shalom Alliance Community, as well as a husband and the father of four children. When he fell ill with COVID-19 this past March, he ended up in the hospital and eventually needed to be intubated.
The Shalom community's website shared the story. Brito had already established a good rapport with the 25-year-old nurse who was attending him, Ruben Cavalcante. When it came time to be intubated Brito gave a last testimony to his faith and enthusiasm in sharing it. Cavalcante explained in an Instagram story:
Sadly, I won't be able to return the rosary to him here in this world, but I know that Our Lady is receiving him in heaven.
I only wish that at this moment his family may be comforted and that they may trust in God. As he told me that day, "everything contributes to the good of those who love God."
The missionary's wake and burial took place last March 23. Along with the words quoted above, Cavalcante wrote:
I heard a saying in recent days that helps make sense of all of this: "When you're a healthcare professional and you go to work, two things can happen: either you touch some patient's heart, or some patient will touch your heart."
Brito's faith and trust in God as he uttered what he knew might be his last words certainly touched Ruben Cavalcante's heart, and the hearts of many more people through his testimony. What greater gift could the missionary give than his faith and prayer?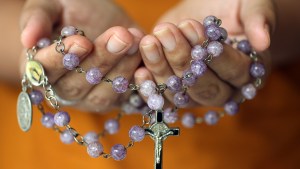 Read more:
3 Virtues we can learn from praying the Rosary